So... Anthony Kiedis Saved a Baby's Life During Carpool Karaoke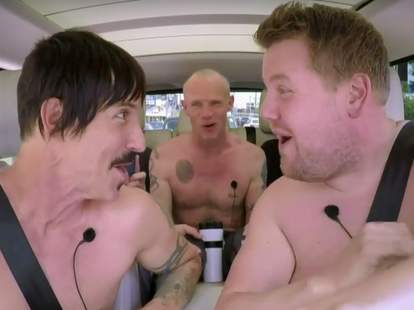 YouTube/@The Late Late Show With James Corden
On Monday, the Red Hot Chili Peppers joined James Corden for an installment of Carpool Karaoke. Thursday, Anthony Kiedis revealed that the segment was even stranger than the yard wrestling and topless sing-alongs that aired.
Between takes, Kiedis saved the life of a baby.
He told the story on Radio X's The Chris Moyles Show, and it doesn't appear to be an insane bit of bravado. Corden and an executive from The Late Late Show have both confirmed that the story is true.
Kiedis told Moyles that the incident happened after a dance-off that was cut from the segment that aired Monday. "We danced off, we tied, and then we were going to celebrate with some Mexican food on the corner. And a woman came out of her house, holding a child saying 'My baby, my baby, my baby can't breathe," he said, via a transcription from NME. 
"We all ran across the street, the woman thrust the baby into my arms. The baby was not breathing and I thought 'I'm gonna try and do a little baby CPR real quick, see if I can get some air in this kid.' Tried to open the mouth, [it was] like locked shut. So I started rubbing the belly, bubbles came out of the mouth, the eyes rolled back into place. The ambulance showed up and I handed the baby over, who was now breathing and fine, and we went back to Carpool Karaoke."
So, that's a thing that's probably never happened in any other episode of the show. Adele might top our ranking of every Carpool Karaoke, but did she save a life? It has to be taken into consideration in the next ranking. Serious bonus points there.