These Fast Food Chains Just Received Failing Grades for Antibiotics in Their Beef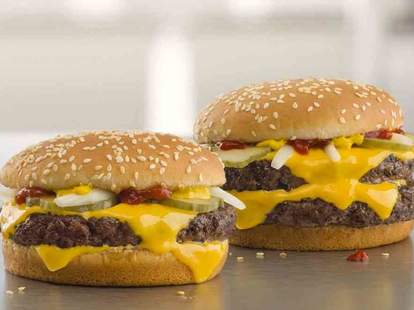 I can't lie. I don't have the utmost confidence in fast food meat. But with that said, it's also never stopped me from shoveling a Big Mac in my mouth. It's called blind love, my friends. And after a recent report detailed how many chains are still using antibiotics in their beef, I've realized just how blind it is.
For the fifth year, consumer groups -- including the U.S. Public Interest Research Group Education Fund, Natural Resources Defense Council, Consumer Reports, and more -- ranked some of the country's most popular restaurants based on antibiotic use in their beef supplies. And more than a few received failing grades.
So, how did our favorites fare? Chipotle landed on top with a solid A-grade while Panera scored an A-minus. McDonald's and Subway were next with solid Cs, Wendy's fell at C-minus, and Taco Bell landed with D. Who wound up with the dreaded F? Buckle in, folks, because there were quite a few: Starbucks, Burger King, Domino's, Pizza Hut, Sonic, Applebee's, Olive Garden, Buffalo Wild Wings, Little Caesars, Arby's, DQ, Jack in the Box, Chili's, IHOP, and Panda Express, according to the report.
Here's why that's a problem: these antibiotics are causing a drug-resistant bacteria to develop in food products that, in turn, can cause serious illnesses for humans, per Healthline. In short, it's not good for you.
"Overuse of antibiotics in the beef industry threatens our health, and fast-food companies need to do more," study co-author and antibiotics campaign director for the U.S. PIRG Education Fund said, Today reports.
But are they? According to the outlet, Arby's, Burger King, and Jack in the Box all lack policies regarding antibiotic use while Taco Bell and Wendy's are simply insufficient. However, some chains are making positive strides like McDonald's who has made major improvements just since last year.
"McDonald's believes antibiotic resistance is a critical public health issue, and we take seriously our unique position to use our scale for good to continue to address this challenge," Global Vice President for McDonald's Sustainability Keith Kenny said in a statement to NBC News.
Don't get me wrong, though. I'm still eating Taco Bell, Starbucks, and Burger King like nothing's wrong.
Sign up here for our daily Thrillist email and subscribe here for our YouTube channel to get your fix of the best in food/drink/fun.
Megan Schaltegger is a staff writer at Thrillist. Follow her @MegSchaltegger.