This Company Will Give You a Big Check for Flaunting Your Small Home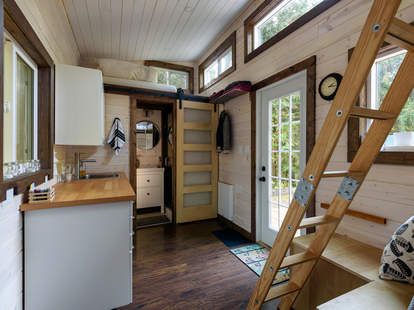 Not all pocket-sized living spaces are created equal. Some people pay ghastly sums for dwellings designed for them to wash the dishes from bed, while others live in the lap of shiny, tiny-home luxury, climbing polished wooden ladders up to fluffy queen-sized beds. In April, anyone who can do a lot with a little can enter to win a prize.
From April 3 through April 24, Apartment Therapy will revive its Small/Cool Contest, which the company originally hosted from 2005-2016. Small-home heroes can submit photos of all the cool ways they've optimized their spaces, answer a few questions about how they're living, and wait for readers to vote for their favorites.
The entry page will go live on smallcool.com at midnight on April 3. Contestants will be able to enter into four brackets: small (750-1,000 square feet), smaller (500-750 square feet), tiny (250-500 square feet), and teeny tiny (less than 250 square feet). Each bracket carries a $1,000 potential prize, and a grand prize winner will score another $3,000.
The Small/Cool's return comes at a time when many folks trying to make the best of being stuck indoors, and readers are eagerly awaiting the contest's new iteration, according to a statement quoting Apartment Therapy CEO and founder Maxwell Ryan. "We get more reader emails asking us to bring back the Small/Cool Contest than we do about anything else combined," he said.
Sign up here for our daily Thrillist email and subscribe here for our YouTube channel to get your fix of the best in food/drink/fun.