You Can Finally Buy AirPods, But There's a Catch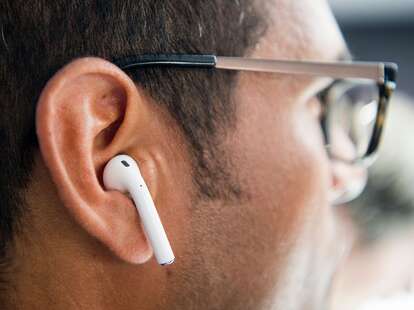 When Apple unveiled the headphone jack-less iPhone 7 and iPhone 7 Plus back in September, the company promised pricey wireless earbuds called AirPods to help ease the pain, come October. Now, after months of delays and plenty of egg on its face, Apple said AirPods are finally available to buy online starting Tuesday.
The company said AirPods are currently available for pre-order via its online store and will start hitting mailboxes and doorsteps sometime next week, which is also when they'll arrive at Apple retail stores and other stores that carry Apple products. On Tuesday morning, Apple's online store quoted delivery dates for AirPods as soon as Wednesday, December 21st, but delivery dates have since slipped to "4 weeks," which means you'll likely have to find them in stores if you want them before the holidays. That is, if you're willing to shell out $159 for earbuds you're almost certain to lose.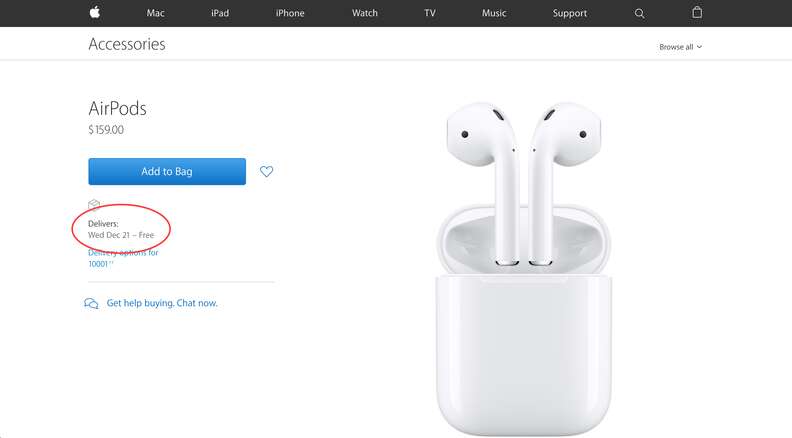 Apple boasts that AirPods are "magical" and "effortless" thanks to one-tap setup, which allows them to almost instantly connect to your iPhone, Apple Watch, and other Apple products as soon as you pop them into your ears. They pause when you take them out of your ears. All said, they're packed with technology like Apple's new low-power W1 chip, antennas, accelerometers, beam-forming microphones, and other sensors. For $159, they'd better be magical in terms of sound quality and user experience.
As for battery life, here's what Apple says you'll get: five hours of listening on one charge, with additional charges available via the AirPods' charging case totaling more than 24 hours of listening time. That's right, folks: you'll no longer have to deal with annoying and inconvenient headphone wires, but you'll have to carry around a charging case. ¯\_(ツ)_/¯
Just last week, reports emerged suggesting the Cupertino, California-based company was struggling to resolve issues involving Bluetooth connectivity and in late October, Apple CEO Tim Cook said the company needed "more time" before it could start selling the devices. But really, it should come as no surprise that Apple is ready to take more of your money now before the year is up.
Sign up here for our daily Thrillist email, and get your fix of the best in food/drink/fun.
Tony Merevick is Cities News Editor at Thrillist and is skeptical, but will definitely try them. Send news tips to news@thrillist.com and follow him on Twitter @tonymerevick.