Details Just Leaked on a New Apple Device That Could Be Bigger Than the iPhone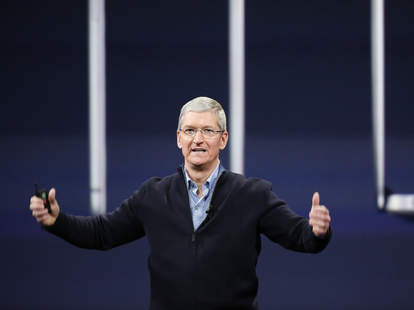 Getty Images/Getty Images News/Stephen Lam/Stringer
Although the brouhaha over the iPhone X seems to have finally muffled to a dull roar, Apple is already making waves once again over a device it hasn't even officially acknowledged to be working on. On Thursday, new details leaked about an augmented reality headset it's rumored to have in the pipeline, and based on the latest intel, it seems like it might very well end up being as big or even bigger than the iPhone.
Rumors about what device(s) Apple might have on deck to take the reins from the iPhone have been swirling for some time, though all signs point to it being related to augmented reality. Tim Cook has gone on record a numberof times to claim AR will be the next big thing and that it will "change the way we use technology forever." Under his leadership, the company has also been poaching top talent from leading AR companies to help build the foundation for its impressive-yet-fledgling AR development platform, ARKit. There have also been patent applications and rumblings that suggest it's partnered with an optics company to develop a special pair of AR-equipped glasses. Of course, as expected, Apple has remained mum about it all.
However, specific details about the project published in a new report from Bloomberg seem to all but confirm Apple's super-secret headset project, and suggest that the company plans to have the technology ready for it by next year.
Speaking to people "familiar with the situation," Bloombergreports that Apple is indeed hard at work developing a headset, and that it has ambitious plans to have one ready to ship to customers by 2020. Apple's ARKit software that it showcased with impressive demos on stage earlier this year is reportedly an "interim step" to enable its stable of hundreds of AR developers to test new tech on an existing device while the headset and hardware are being engineered. That AR team is also apparently using existing third-party virtual reality headsets like the HTC Vive to run tests, too.
As for the physical headset device itself, Bloomberg's sources claim it will run on a proprietary all-new chip and operating system that's similar to the one built into the Apple Watch. Details are vague as for how a user will operate the headset or what it will look like, but the team is "investigating touch panels, voice-activation via Siri and head gestures," according to the report. As for what you might use it for, the company is evidently focused on incorporating AR functionality into everything from maps to texting, building out virtual meeting spaces, 360-video playback, and lots more.
Of course, since Apple doesn't comment on its in-the-works plans there's no confirming when exactly it anticipates having a headset ready to hit shelves. And frankly, 2020 does seem a bit soon for it to have all the kinks worked out on something being hyped as such a game-changer.
Then again, if there's a tech company that gets off on surprising the public, it's Apple.
h/tBloomberg
Sign up here for our daily Thrillist email and subscribe here for our YouTube channel to get your fix of the best in food/drink/fun.