Apple Just Banned an App That Helps You Find Your Lost AirPods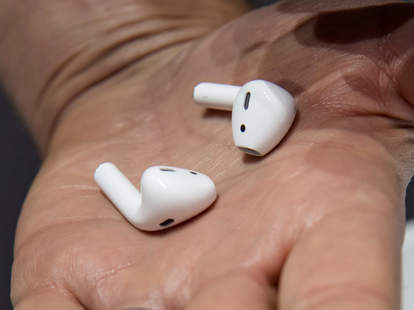 Apple's AirPod headphones -- the wireless, bluetooth-enabled earbuds that Apple struggled to bring to market -- managed to infuriate the company's faithful upon their unveiling in September. Why? Because they cost $160 and are easy to misplace, given their tiny size.
So it makes little sense that the tech giant banned an app that tracks and finds lost AirPods. It's a petty move that seems to suggest Apple has no interest in developers outside the company orbit meddling with their already seamless products.
The app, called "Finder for AirPods," used the iPhone to track the bluetooth signal emitted by a lost pair of AirPods. According to a Reddit thread started by its developer studio Duecks Pty, Finder for AirPods was deemed "not appropriate for the App Store." The tech giant "didn't like the concept" of a supplemental app rectifying the AirPods' most pressing issue. As Fortune reports, the stunted app was already a hit, garnering a four and a half-star rating in the App Store.
While AirPods are small (and therefore easy to misplace), they're not all that cheap to replace. Apple charges a $69 fee to replenish just one lost earbud, and since CEO Tim Cook has made it obvious the company is on the cusp of a "wireless future," it's clear that the AirPods are here to stay.
But that doesn't mean consumers have reasons to rejoice: The headphones sold out upon their debut shortly before Christmas, but because the product took as long as four weeks to ship, prices skyrocketed upwards of $2000 on eBay.
It's unclear whether Apple has any plans for an AirPod finder app of its own, although its rejection of Duecks Pty's app shows the company's willingness to quash useful software engineered by a third party. Apple has banned apps before -- but usually for promoting the kind of gross, NSFW content enjoyed by peeping toms. On the other hand, eliminating an app that seeks to help customers -- and one that's proven to work -- seems nothing short of a jerk-move from Apple.
Sign up here for our daily Thrillist email, and get your fix of the best in food/drink/fun.
Sam Blum is a News Staff Writer for Thrillist. He's also a martial arts and music nerd who appreciates a fine sandwich and cute dogs. Find his clips in The Guardian, Rolling Stone, The A.V. Club and Vice. He's on Twitter @Blumnessmonster.