Apple Just Launched Its New Credit Card. Here's Everything You Need to Know.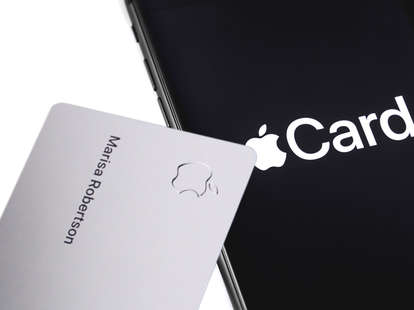 Shutterstock
Shutterstock
Apple has made no secret of its intention to integrate itself into all aspects of your life -- from its foray into wearables and augmented reality to its forthcoming slate of original content. However, when it announced earlier this year that it was developing its very own virtual credit card with Goldman Sachs, it came as a surprise. What's going to make the Apple Card stand out from the already flooded field of consumer credit cards, and is it really going to make your life any better or easier?
That's a complicated question to answer this early on, but now that the Apple Card has officially launched for some users who showed early interest in it, it's worth looking into whether it's a good fit for you. So, to help you out, we've pulled together a primer on everything you need to know about the tech giant's new payment platform, including its unique cash back perks and the flashy titanium physical card it comes with.
What is the Apple Card?
Unlike traditional credit cards, this one will live in your iPhone's Wallet app, can be signed up for in minutes, and can be used as a digital card anywhere Apple Pay is accepted. Notably, it also comes with a physical titanium card (to be used in locations where Apple Pay isn't accepted) that looks quite different than the plastic rectangle you may be accustomed to. It comes etched with only your name and forgoes any sensitive data like a credit card number, CVV, expiration date, or signature. For security purposes, all of that authorization info is stored within your Wallet app.
How does the Apple Card work?
Although it may seem a bit confusing that there is both a virtual and physical form of the card, it really isn't. If where you're shopping/dining/visiting -- online or in a brick and mortar location -- accepts Apple Pay, you'll be able to easily pull up the digital version on your iPhone and complete the transaction. If Apple Pay isn't accepted, you can simply use the physical version instead (Mastercard handles all the payment processing). In both cases, you'll be able to easily access a comprehensive at-a-glance view of all your purchases instantly on your phone.
Specifically, you'll be able to see when your monthly payment is due and how much you owe, plus a Maps view of all the places you've made purchases. On top of that, you'll be able to quickly check how much you've spent during a given time period and track your spending by category, which could be a huge help when it comes to budgeting.
What are the benefits of an Apple Card?
In addition to the seamless and comprehensive purchase-tracking features, the Apple Card also comes with a unique cash back perk.
Unlike complicated points systems you may be familiar with from other rewards cards, this one has a cash back program dubbed Daily Cash. Essentially, you'll earn cash back on every single transaction -- 1% when using the physical card, 2% when using the digital version, and 3% when purchasing anything from Apple using the digital version -- and have access to it instantly. So, for instance, if you spend $1,200 at Apple in a single transaction using Apple Card, you'll receive $36 immediately in Apple Pay Cash. Even better, you can use it in any way you want, even to pay down a balance.
What are the fees associated with Apple Card?
Another added bonus for this card is that Apple says there are no late fees, annual fees, international fees, or fees for going over your limit. However, shortly after the company announced the card in March, CNBC pointed out that Apple quietly rolled out some new transfer fees for moving money outside of your Apple Pay Cash balance. For example, you'll be charged a 1% fee to make an immediate transfer to a debit card (fortunately, it maxes out at $10).
How do you apply for Apple Card?
At the moment, Apple is slowly rolling out Apple Card availability to a select group of customers who initially filled out the "Notify Me" form on the Apple Card webpage, and is presumably gearing up for a wider release.
Before you try to sign up, though, you'll want to make sure you've installed the latest iOS update (iOS 12.4, which you can download and install via Settings > General on your device). Once you've done that, open the Wallet app, tap the + button, and select the new Apple Card option (if you don't see that option it's not available to you yet). You'll be prompted to enter some personal details, which will be used to appraise your credit status (this should only take a few minutes). If accepted, you'll see an "Accept Apple Card" button pop up, and you'll be free to start using it in your Wallet app on your phone immediately. You'll later receive the physical card in the mail. Also, it's important to note that in order to apply you need to be a legal US resident over 18.
What credit score do you need to be approved for Apple Card?
It's not entirely clear who'll qualify to receive an Apple Card, though it's likely the company will be looking for folks with relatively good credit scores. However, considering APRs will range from 13.24% to 24.24% depending on creditworthiness, credit industry analyst Ted Rossman speculated to CNBC that Apple will probably be making it available to a wide range of users, including people with bad credit. It's also unclear how credit limits will be set, though the user in the Apple Card demo video is offered a 13.24% interest rate with a $10,000 limit.
How is the Apple Card different from Apple Pay?
While Apple Pay has been around since 2014, it essentially serves as a way to tether an existing physical credit or debit card and pay for things digitally using funds from that account via your device. The Apple Card, meanwhile, becomes the credit card itself, and provides the line of credit. Still, the digital transaction process will function in the same exact way for both Apple Card and Apple Pay (e.g., you need to authenticate each purchase via FaceID or TouchID). Of course, Apple Card also comes with a physical titanium version.
Sign up here for our daily Thrillist email and subscribe here for our YouTube channel to get your fix of the best in food/drink/fun.