Apple Finally Made it Easier to Find Your Lost AirPods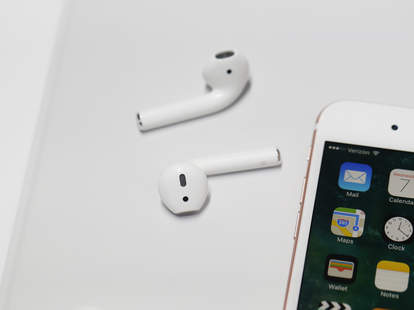 The most consistent complaint about Apple's AirPod headphones -- for starters, they cost $160 -- stems from the wireless earbuds' tiny size. Earlier this month, the Cupertino company banned an app, created by a third-party developer, meant to locate your AirPods if one or both go missing. While this was a seemingly petty move, it's now clear Apple already had plans for it's own AirPod finder.
Today the company announced the release of "Find My Airpods," a feature that's available in the beta version of Apple's newest operating system, iOS 10.3. (Anyone can participate in the beta scheme if they'd like, and can download the OS, here). According to Quartz, "Find My Airpods" employs the same bluetooth technology that allows the headphones to work in the first place. If you lose one of the earbuds, the app will try to ping one of the errant pods with a bluetooth signal within a range of five to ten feet. 
If your AirPods still prove elusive after that, the app can display a map, showing where your AirPods last emitted a bluetooth signal. The app can also make your AirPods play a sound, as sort of a last resort if nothing else works. The app only works if run through a device that's connected to the same iCloud account as your lost headphones.
The fee for replacing a lost AirPod is $69, which is a solid indication that you might consider guarding them with care. If you aren't keen on Apple chief Tim Cook's vision of a "wireless future," you might consider the AirPod Strap, which connects the earbuds with a $10 wire.  
Sign up here for our daily Thrillist email, and get your fix of the best in food/drink/fun.
Sam Blum is a News Staff Writer for Thrillist. He's also a martial arts and music nerd who appreciates a fine sandwich and cute dogs. Find his clips in The Guardian, Rolling Stone, The A.V. Club and Vice. He's on Twitter @Blumnessmonster.