Apple Just Made It Easier to Unlock Your iPhone While Wearing a Mask
Here's how the latest software update makes unlocking your iPhone faster.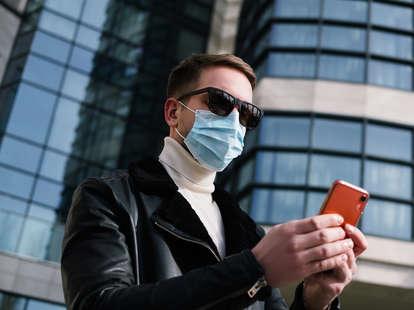 By now, you've probably gotten used to wearing a face mask in public as an easy step to protect yourself and others during this ongoing pandemic (if you haven't, get over it and do your damn part). Yeah, you'll have to live with your bad breath and the humidity trapped against your face, but it turns out you'll no longer have to live with one mask annoyance: fumbling to unlock your iPhone.
On Wednesday, Apple released iOS 13.5, a software update that makes it easier to unlock Face ID-enabled iPhones while wearing a mask, among other things. The update simplifies the unlock process while you're wearing a mask, allowing you to get into your phone faster. The passcode field will now appear when you swipe from the bottom of the lock screen while wearing a mask, according to the company's software release notes. Before the update, Face ID wouldn't recognize you're wearing a mask and would attempt to scan your face before serving up the passcode screen to unlock your phone -- an annoying extra step.
MORE: Here are 50 fun things you can do at home right now.
Along with the Face ID enhancement, the update also includes the COVID-19 Exposure Notification API that Apple made in partnership with Google, a FaceTime group calling improvement, and additional improvements and bug fixes. You can update your iPhone by going to the Settings app, tapping General, then tapping Software Update and following the prompts. If your iPhone doesn't have Face ID, it's still worth updating the software for all of the other performance enhancements and bug fixes.
Oh, and Apple notes that the Face ID mask fix also works when you're unlocking apps and authenticating purchases in the App Store, iTunes, or stores using Apple Pay. So, if you're grabbing, say, a cold brew via a pickup window with social distancing, it'll be easier to pay with you phone while wearing a mask.
Sign up here for our daily Thrillist email and subscribe here for our YouTube channel to get your fix of the best in food/drink/fun.