Over 70 New Emoji Are Now Available for Your iPhone. Here's How to Get Them.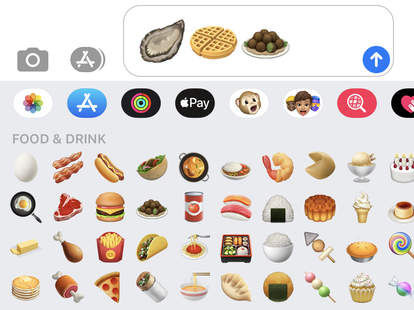 Emojis are shaping our future. One cartoon eggplant can change a casual night of conversation into the conception of a child, a child that grows up to be the President of the United States. And now more changes are being made, via more inclusive emojis and dozens of other additions as part of Apple's iOS 13.2 software update, available Monday.
The new update is the first to include the emoji characters Apple first previewed on July 17, World Emoji Day. I don't know who is celebrating this day, but those people will definitely be upset to hear they just missed their chance to buy a 50-pound barrel of Fruitmojis. Anyway, the fresh batch of emoji features some serious game changers in the food section, like falafel, a stick of butter, and an oyster, among several others. The oyster looks absolutely disgusting, though I might be biased (there's a Thrillist video of me trying oysters for the first time and hating them). 
blog.emojipedia.org/apple
There are also many new inclusive emoji characters, including people in wheelchairs and walking with canes, as well as a zoomed-in ear with a hearing aid.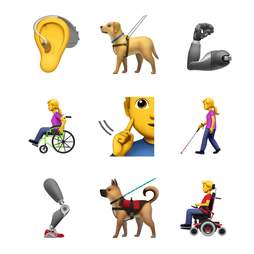 blog.emojipedia.org/apple
You'll be able to change the skin tones of the people holding hands, and the update is also getting more gender-inclusive, meaning you'll be able to select between man, woman, or person for specific emojis.
blog.emojipedia.org/apple
How to get the new iPhone emoji
You can bless your keyboard with dozens of new emoji the same way you've done so every year for years now. Just update your iPhone to latest version of Apple's software. Here are the steps:
1. Open the Settings app
2. Tap General
3. Tap Software Update
4. Install the update
5. You can send the new emoji now
You can check out the rest of the emojis here, per Emojipedia. Hint: there's a sari, half a dozen new animals, and a pinching hand. So if you don't like the eggplant emoji someone sent, now you can pinch it. 
Sign up here for our daily Thrillist email and subscribe here for our YouTube channel to get your fix of the best in food/drink/fun.