Everything You Need to Know About Apple's Game-Changing New iPhone X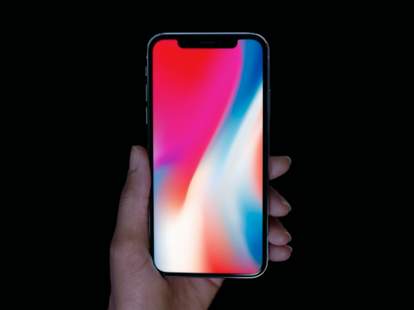 As expected, Apple announced a trio of new iPhones on Tuesday. The new lineup includes the iPhone 8, the iPhone 8 Plus, and the special edition iPhone X, the latter of which is packed with a glut of flashy new features and an eye-popping price tag to match. So what's all the fuss about? Here's everything you need to know.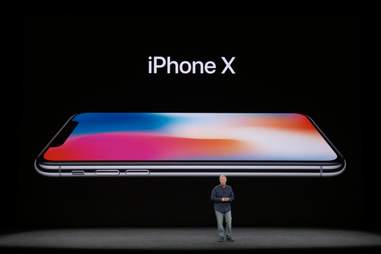 Apple
The name
iPhone X
As was rumored in a leak over the weekend, the name of the new top-tier Apple phone is the iPhone X. You might assume "8" would come next in the sequence, but this special top-of-the-line model, which will be available in only two colors, is a reference to the 10th anniversary of the release of the first iPhone in 2007. Apple even pronounces "iPhone ten," not "iPhone ex."
There is a new iPhone 8 and iPhone 8 Plus, too
Although the iPhone X is rightfully getting the lion's share of the attention, Apple did announce two other impressive new phones: the iPhone 8 and the iPhone 8 Plus. They are essentially upgrades to the iPhone 7 and 7 Plus, with a few extra-special additions like a brand new A11 chip for faster processing power, subtle camera improvements, and wireless charging integration (more on that in a minute). They'll be available in Space Grey, Silver, and Gold, and will be available for preorder on September 15.
Apple
The standout new features
A bezel-less OLED screen
In what is one of the biggest aesthetic updates to the company's flagship device ever, the iPhone X features a bezel-less OLED (organic light emitting diode) screen. In other words, the screen is brighter and stretches from edge to edge, ditching the signature letterbox style (and the Home button), in favor of a bigger, better display. However, the loss of the Home button doesn't limit what you can do -- instead you navigate using a series of up-swipes and taps of the side button.
Face ID
Instead of a Home button to unlock your phone and confirm purchases via Touch ID, the iPhone X is packed with face-scanning tech known as Face ID. This feature harnesses the power of a brand new front-facing True Depth camera system that automatically scans your face and verifies your identity. It combines an infrared camera, flood illuminator, dot projector, and various other sensors to authenticate the unique 3D features of your face and map your facial muscles. It will also allow you to create and send Animojis, which are new 3D animated versions of popular emojis that evoke your own unique facial expressions. It's only a matter of time before third-party developers find even more creative ways to take advantage of it, too.
Even better, it's equipped with a number of security measures to ensure people can't simply unlock your phone by flashing a photo of your face in front of it. To keep you protected, Face ID only works if you're looking at it and your eyes are open. Someone can't just crack into your phone from across the room or while you're asleep.
Wireless charging
If you've been waiting for the day when you no longer need to plug in your phone to recharge it, you're in for some good news. The iPhone X, as well as the 8 and 8 Plus, will support wireless charging. They are all Qi Wireless-charging compatible, which means you'll simply be able to place them on a designated charging platform (whether it's at your bedside, an airport, or even a cafe table with built-in Qi chargers), and they'll automatically begin to juice up.
Apple also plans to release its very own wireless charging platform, which it's calling the AirPower mat, sometime next year. It will be large enough charge your iPhone X or iPhone 8, Apple Watch (Series 3), and AirPods wirelessly, all at the same time. Until then, you can purchase any number of existing Qi wireless charging devices from third-party manufacturers like Mophie or iHome.
Apple
The cameras
Like the iPhone 7 Plus and 8 Plus, the iPhone X also features a dual lens 12MP camera, but this one is even more advanced, boasting dual optical image stabilization, which enables you to capture even sharper images and video in low light. The X will also grant you access to a suite of new Portrait Lighting options within Portrait Mode (as will the 8 Plus), which give you far more control over the lighting of your subjects, and allow you to create even more dramatic compositions.
To be clear, the X's front-facing camera is the real standout. The 7MP True Depth camera that facilitates Face ID is packed with some seriously impressive tech that will not only fundamentally change how you interact with your device, but also dramatically improve the quality of your selfies. Like the rear dual lens camera, it will also be capable of capturing selfies in Portrait Mode with the new Portrait Lighting options.
Battery life
Much of the X's powerful new features are possible in large part thanks to a brand new ultra-powerful A11 Chip with Neural Engine, which happens to be a serious battery life suck. However, Apple wasn't about to give people another reason to complain about shoddyiPhone battery life, so they found a way to make the X's battery last two hours longer than the iPhone 7's. Also, both the iPhone 8 and X are "fast-charge" capable, which means they can be charged to 50% battery life in just half an hour (the catch, according to MacRumors, is that it only fast-charges if you're connected via a USB-C cable). Still, progress!
Apple
Pricing and availability
As many anticipated, the iPhone X is the most expensive iPhone ever, with the 64GB version starting at $999 (the 64GB iPhone 8 and 8 Plus start at $699 and $799, respectively). Besides the phone itself, the box will contain a pair of EarPods, a Lightning to 3.5mm headphone jack adapter, a Lightning to USB adapter, and a power charger. You'll also need to be patient if you want one, since pre-orders won't even begin until October 27, with shipping starting a week after that on November 3. On the other hand, the 8 and 8 Plus are available to preorder on September 15, and ship September 22.
As for when you'll be able to get your hands on the new AirPower mat to wirelessly charge all of your beloved Apple products together, the company announced it will be available sometime next year.
Sign up here for our daily Thrillist email and subscribe here for our YouTube channel to get your fix of the best in food/drink/fun.