Apple's Huge iTunes Sale Has $15 Movie Bundles Right Now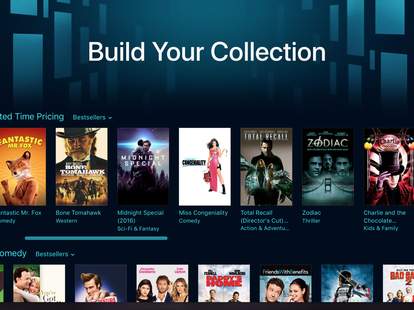 Although Black Friday and Cyber Monday may feel like an eternity ago, it turns out there are a few more damn good deals to be had for the holidays -- this time, on movie and TV show downloads. As it has in previous years, Apple launched its huge, year-end iTunes sale on Tuesday, featuring what are likely among the year's best deals on popular movies, TV shows, and movie bundles.
The sale, which is currently available via the iTunes Store, includes dozens of discounted titles listed under sections labeled as "limited-time prices." The deals include $1 movie rentals, $5 movies, $5 TV seasons, $10 recently released movies, and multi-movie bundles ranging from $10 to $80. The long list of movie bundles are -- by far -- the best deals if you're trying to build your digital movie collection. For example, The Hobbit and The Lord of the Rings six-movie bundle is only $50, while The Matrix three-movie bundle, the Ocean's three-movie bundle, and Rush Hour three-movie bundle will each set you back $15.
Here's a list of some of the best deals (check out iTunes for the rest) you can get right now:
Movie Bundles
Harry Potter Complete Collection (eight movies) - $80
X-Men Collection (six movies) - $35
Saw Unrated Films (seven movies) - $20
Vacation Film Collection (five movies) - $30
Alien Film Collection (six movies) - $40
Middle Earth (The Hobbit + LOTR) Extended Editions Collection (six movies) - $50
The Daniel Craig (James Bond) Collection (four movies) - $40
Jurassic Park Collection (four movies) $25
Rambo: The Complete Collector's Set (four movies) - $15
Star Trek Original Films (10 movies) - $50
Tarantino Film Collection (six movies) - $20
$5 Movies
Her
Miss Congeniality
Fantastic Mr. Fox
Total Recall
Black Swan
Cast Away
Birdman
The Shawshank Redemption
$10 Recently Released Movies
Baby Driver
Wonder Woman
The Dark Tower
Logan
The Hitman's Bodyguard
Atomic Blonde
Baywatch
In addition to the aforementioned titles, there are plenty of additional discounted movies and movie bundles to choose from as you browse the sale sections throughout the iTunes Store, along with the TV show season and series boxset deals (there are too many to list here). Obviously, it's not fun having to pay for movies and shows, but the price cuts reduce the sting of spending your hard-earned money to keep yourself entertained. Just gather all the iTunes Store gift cards you'll inevitably receive over the holidays and you'll be all set.
Sign up here for our daily Thrillist email and subscribe here for our YouTube channel to get your fix of the best in food/drink/fun.


Tony Merevick is Senior News Editor at Thrillist and spends way too much money when this happens every year. Send news tips to news@thrillist.com and follow him on Twitter @tonymerevick.