Apple Will Pay You for Your Best iPhone Night Mode Photos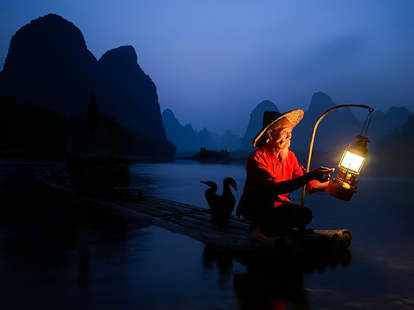 Shot on iPhone 11 Pro in Night mode by Austin Mann.
You know that Night Mode photo you took of your buddy shoving four roasted marshmallows into his mouth? The one where the improved camera sensor, processor, and software of the iPhone 11 allowed you to capture the campfire reflecting in his blue-green eyes and you for a moment fell madly, deeply in love, before shaking off the butterflies with a "Damn, this new camera is, like, pretty sick." Well, now you can submit that emotionally destabilizing image to Apple for money and clout.
From now through January 29, Apple is accepting images taken with the iPhone 11's Night Mode from all over the world. The submissions will be judged by a panel of ten, including talents like New York-based photographer Malin Fezehai, who's known for her work with The New York Times, TIME, Nike, Malala Fund, and the United Nations. The winning photos will be announced on March 4. 
If you win, your picture will be presented in a gallery on Apple Newsroom, apple.com, Apple Instagram (@apple), and may also be included in digital campaigns, inside Apple Stores, on billboards, or in third-party exhibitions. Probably not the MOMA, though. The exact dollar amount you will receive is unknown at this time, but Apple promises to pay you a licensing fee.
You need to have an iPhone 11, iPhone 11 Pro, or iPhone 11 Pro Max to qualify. Once you take the pic, share on Instagram and Twitter using the hashtags #ShotoniPhone and #NightModeChallenge, with a note about the phone model you used. (If you'd prefer to send high res images, you can submit your images in their highest resolution via email to shotoniphone@apple.com, using the file format 'firstname_lastname_nightmode_iPhonemodel.')
Here are some tips for Night mode, provided by Apple:
If the yellow Night Mode icon is showing, you're shooting with Night mode.
You can tap on the Night mode icon and adjust the slider to max to extend the capture time.
Try propping up your iPhone or using a tripod for a longer capture time at the darkest time of night.
Click this link for the official rules, but here are a few: You can't participate if you work for Apple, nor can anyone in your immediate family. You also have to be over 18, perhaps to protect our fragile adult egos in the Golden Age of Gen Z. 
Sign up here for our daily Thrillist email and subscribe here for our YouTube channel to get your fix of the best in food/drink/fun.