New Apple Pie Kit Kats Are Coming to Town
The new candy bar is as cute as pie.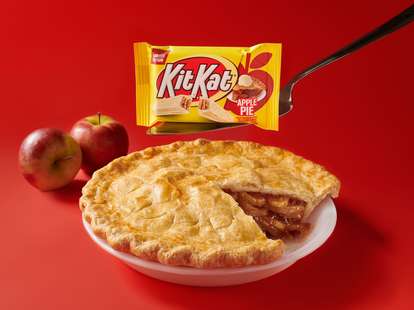 Courtesy of Hershey's
Courtesy of Hershey's
I was a candy traditionalist until the sweet and zesty lemon crisp Kit Kat arrived at the office and snapped my food morals in half. Now my ego is dead, and I can comfortably recommend that you also try Hershey's latest Kit Kat flavor: apple pie.
The classic dessert-inspired Kit Kat is available at retailers nationwide starting in July, and gone before we know it (literally, we don't know when it will be gone, so hurry up). Or you can choose to live in fear-driven candy ignorance forevermore.
The treat is basically the standard crisp wafer surrounded by apple pie-flavored white creme. It's the same size (1.5 ounce) and price (about $1) as its traditional counterpart. The only difference is that one is a simple candy and the other is a threat to even the greatest pie shops in America.
Instagram account @junkfoodleaks just reviewed the new candy bar and said that it was "not as artificial as many apple pie products out there" and that it "has a great crunch in the center." But the account failed to mention that this Kit Kat may monopolize Big Candy and significantly alter life as we know it.
Sign up here for our daily Thrillist email and subscribe here for our YouTube channel to get your fix of the best in food/drink/fun.
Ruby Anderson is a News Writer at Thrillist. Send your tips to randerson@thrillist.com.