Apple kicked off its World Wide Developers Conference (WWDC) in San Jose, California on Monday with its much-anticipated annual ritual of unveiling a slew of new software updates and products. As in previous years, the big presentation was meant to show off all of the best new features coming to your iPhone, iPad, Mac, and other Apple products this year.
Of course, all of the announcements can be hard to keep up with, so we made the spectacle easier to digest with a list of the best new features coming with iOS 12, MacOS Mojave, and WatchOS 5, and more. Many of the updates will arrive sometime this fall, according to Apple. Here's what you have to look forward to until then:
Recommended Video
Acquired Taste: Blood Rice Cakes With Timothy DeLaGhetto and Justina Valentine
iOS 12 will include some legitimately useful augmented reality features
While Tim Cook has famously heralded the significance of augmented reality in the future of mobile tech, it's been a bit tough to figure out how exactly it's going to be useful in most people's day-to-day life. Now, it seems to be coming into focus as Apple rolls out some AR-related tools like Measure in iOS 12, which will allow you to measure 3D objects in real time using the camera by simply tapping and touching on your screen (think furniture shopping and photo frame sizing made easy).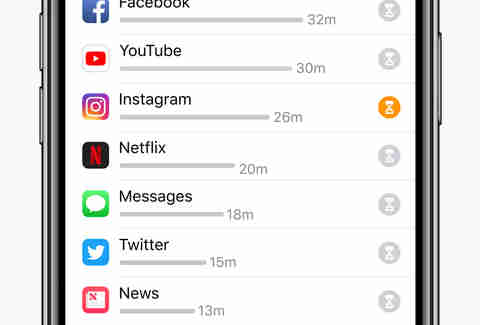 It's now easier to wean yourself off addictive apps (and reduce notifications overall)
While Apple introduced plenty of cool features in IOS 12 that'll get you using your iPhone and iPad even more, the company also acknowledged the amount of time people are using their devices these days is a bit problematic. In fact, they're leaning into a series of apps in iOS 12 to help you better manage your time staring at screens. For one, they're rolling out new Do Not Disturb settings that will allow you to essentially mute your phone's activity overnight so you won't be bothered with dozens of notifications as you're trying to catch some shuteye, and instead review them when you're ready to deal with them in the morning. 
Additionally, notifications will now be grouped together, to help reduce what can seem like a certain barrage on your screen. Now, you'll be able to set them to pop up grouped together according to what app they're coming from, or what event they're related to. Specifically, they'll show up in a neat stack.
The biggest development here is a new feature called Screen Time, which helps track and measure your use of individual apps. Beyond giving you a weekly summary of which apps you're using most, and how long you're actually using them during each day/week, it's going to give you the chance to actually limit your usage. So, if you've been trying to cut how long you're on Instagram, Snapchat, or Facebook each day, you'll be able to impose specific daily limits for each app, and you'll be booted when your time runs up. 
Siri is getting some convenient upgrades
Apple's ongoing Siri enhancements continue this year with a whole suite of upgrades meant to make things a bit more convenient for you. For one, there's now a new app for Siri called Shortcuts, which will allow you to essentially link a series or chain of custom functions together, depending on frequent behaviors or routines. For instance, you could create a Shortcut that's triggered by the phrase "heading home" that launches your CarPlay navigation and favorite radio station, while simultaneously adjusting your home thermostat, and texting your roommate an ETA. There are literally hundreds of Shortcuts inside the app that you can download and tailor to your liking.
You can now FaceTime with big groups of people
If you've been jonesting to chat with dozens of friends on FaceTime all at the same time, you'll be able to do just that in iOS 12, which will allow you to add up to 32 different people to FaceTime calls. 
Apple
Apple Watch now has a useful 'Walkie Talkie' app
The new Walkie-Talkie app debuting with Watch OS 5 could be incredibly useful in several scenarios when you just need to communicate back and forth but don't want to hop on a call. It essentially enables you to exchange voice messages back and forth in real time to other Apple Watch users by simply tapping and talking into your wrist.
Apple Watch will now automatically detect workouts (and finally play podcasts!)
One fairly common complaint among Apple Watch users has been that you have to manually start and stop tracking a workout in order to get the most accurate Health stats. To address this, Watch OS 5 will now automatically prompt you to start tracking your activity when it senses you may be working out, and will automatically end it when it senses you've finished. You'll also be able to track workouts retroactively, should you forget to hit start right at the beginning. 
Another big win for Apple Watch wearers during the presentation came when it was announced that the Podcasts app is coming to the device, so you can now control your favorite episodes from your wrist. You'll not only be able to stream them via WiFi or LTE, but also Podcasts should now sync among all your devices, so you can pick up on your Watch from wherever you left off on, say, your iPhone.
MacOS now features a 'Dark Mode'
As people are growing more and more concerned with the effects of staring at bright screens all day on our eyes, the new MacOS -- dubbed Mojave -- will allow you to enter something called Dark Mode. This essentially dims your desktop screen in a way that gives you a slightly more vision-friendly experience. It's specifically intended to make editing photos and videos even better.
The Mac App Store is getting a much-needed makeover
While the iOS App Store features a fairly sleek interface and is (mostly) intuitive to navigate, the Mac App Store feels, well, old. However, it's finally getting a big makeover in MacOS Mojave and will now feature more curated lists and a browsing experience that's closer to the one you're familiar with on mobile. It will also now feature some editorial content to get you more familiar with certain popular apps (tutorials, roundups, etc.) and offer preview videos to give you an idea of what exactly each one's all about. 
Sign up here for our daily Thrillist email and subscribe here for our YouTube channel to get your fix of the best in food/drink/fun.