Here Are the Best New Features Coming to Your iPhone With iOS 12
Apple kicked off its annual World Wide Developers Conference (WWDC) on Monday with the much-anticipated keynote presentation in which it unveils all the latest and greatest updates coming to the iPhone, iPad, Mac, and more. As expected, the company announced iOS 12 and a slew of new bells and whistles headed for your iPhone and iPad when the software update arrives sometime this fall. The two-hour event can be a lot to follow, so we've rounded up the best and most important updates coming to your iPhone.
From major under-the-hood performance enhancements to significant enhancements to Siri's capabilities, Apple execs showed off several improvements coming with iOS 12. Here are the absolute best features and changes to look forward to.
Courtesy of Apple
Screen Time
In response to growing calls for technology companies to help people avoid spending too much time on their devices, Apple appears to be stepping up with new time-management features in iOS 12. With new App Limits, you can set limits for the amount of time you spend in specific apps. When the time you've allotted yourself in the app is nearly up, you'll get a reminder that it's time to close out and, you know, enjoy your life. When time is up, a notification will take over the screen. However, you can dismiss this and give yourself an extension if you'd like. 
Grouped Notifications
Finally, after years and years of displaying every single one of your notifications -- even multiple notifications from the same app -- as a giant list on your lock screen, Apple announced it will organize your notifications into groups. This is just one of several features to better display your notifications and help you manage them better.
In addition to grouping notifications, iOS 12 allows you to turn off notifications from certain apps or have future notifications from certain apps delivered directly to Notification Center right from your lock screen. Siri can also suggest tweaking these notification settings based on your app usage.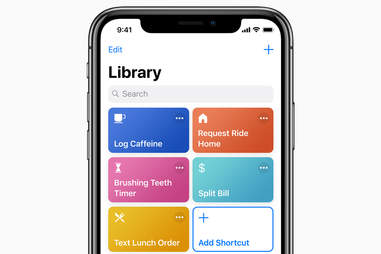 Courtesy of Apple
Siri Shortcuts
A new iOS update wouldn't be complete without an update to Siri, which is now capable of way more than entertaining the elderly with sassy responses. With the new Siri app Shortcuts, you'll be able to set personalized commands to trigger a bunch of apps at once. You can do something simple with the drag-and-drop editor, like trigger the Tile app when you say "I lost my keys," or you can make more elaborate chains like using the phrase "heading home" to start navigation, read you information about road conditions, set your thermostat, turn on the fan, and automatically text your roommate with your ETA.
Shared Augmented Reality Experiences
You've probably heard that augmented reality is the future, so it should come as no surprise that Apple is rolling out new AR tech for iOS 12. The coolest of these is a new emphasis on shared AR experiences with ARKit 2. This will allow up to four people to have a shared experience of the same virtual environment. You and a friend could play an AR game against each other as an observer watches, or you could use it to visualize a home renovation with a builder in the actual room you'll be renovating.
Courtesy of Apple
Memoji
A text conversation is only as good as its emoji, so Apple has added a whole new category called Memoji. These are Animoji that are customizable within the Messages app. You can create one from scratch that looks just like you, or you can build one to communicate your mood with accessories and hairstyles. You can even overlay this over your own face in a selfie, which sounds equally whimsical and terrifying. Apple has also added "tongue detections" that will capture your facial expressions and apply them to Memoji and other Animoji, like the all new T. tex.
Apple Books
Apple is giving your good old iBooks app a massive overhaul in iOS 12. Following the success of the redesigned App Store that arrived with iOS 11, the company is applying a similar design meant to help you discover new books. The company promises a better e-reading experience across the app, too. They love the new version so much that they've ditched iBook and have renamed the app Apple Books.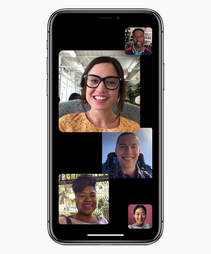 Courtesy of Apple
Group FaceTime
Video group calls have long been absent from Apple devices. But no more. While you're currently restricted to being able to call just one person, iOS 12 will allow you to FaceTime call as many as 32 people, which seems like a bit too many, but... you do you. Oh, and you'll also be able to apply live filters and Animoji during FaceTime calls now. It's going to be wild.
Do Not Disturb Enhancements
Do Not Disturb already lets you tune out notifications, but those capabilities are expanding in a big way. Namely, a new Do Not Disturb During Bedtime mode will help you get a better sleep by blocking all of the notifications you receive in the middle of the night from showing up on your lock screen and holding them for you until when you're ready to see them in the morning. You can control the times and locations that will enable or disable Do Not Disturb from Control Center. 
Speed
Every new version of iOS comes with system-wide speed and stability improvements and iOS 12 has some notable ones. This time, Apple focused on some of the simplest things you do dozens of times every single day. Some highlights: up to 70% faster swipe to camera, up to 50% faster keyboard display, and up to 2x fast app launch when your iPhone is under a heavy workload. Best of all, you'll see these performance boosts even if you have an old iPhone -- Apple said they're supported all the way back to the iPhone 5s from 2013.
Sign up here for our daily Thrillist email and subscribe here for our YouTube channel to get your fix of the best in food/drink/fun.

Tony Merevick is Senior News Editor at Thrillist and is tempted to download the developer beta somehow. Send news tips to news@thrillist.com and follow him on Twitter @tonymerevick.