Applebee's 25-Cent Boneless Wing Deal Is Back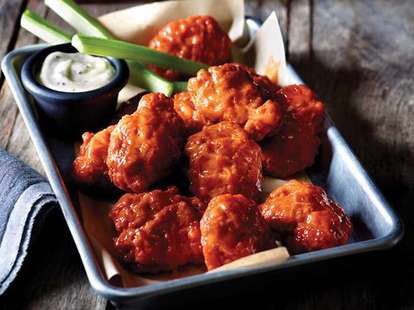 Have you heard of the DOLLAR L.I.T.? It's the Applebee's version of a long island iced tea, available for $1 until the end of March. It's a blend of five sprits, meaning your only chance of survival is eating 100 wings for every one L.I.T. consumed. Thankfully, the chain's insanely popular 25-cent boneless wings deal is back to save your life.
The rules of the 25-cent wing are simple: It doesn't matter how many wings you get. Each one is still the price of a gum ball, meaning 50 wings won't cost more than $13. I had to Google that. You can choose between Classic Hot Buffalo sauce, Honey BBQ sauce. or Sweet Asian chile sauce. And you can choose to eat 50 wings.
You can also choose to benefit from the casual chain's "exclusive Beverage Value Menu," which features drinks ranging from $3, $5, and $7. Then you can choose to get an Uber home, the whole way belligerently texting your ex, and demanding the driver put on the new Lady Gaga.
Sign up here for our daily Thrillist email and subscribe here for our YouTube channel to get your fix of the best in food/drink/fun.