Applebee's Is Serving $1 'Jolly' Holiday Cocktails for All of December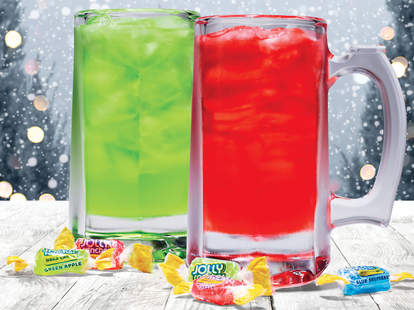 Edited/Courtesy of Applebee's
Everyone knows the holidays are expensive, considering all the traveling involved and the Taco Bell onesies you're buying for yourself. So, it's always nice when you can find a way to cut costs without depriving yourself of the joys of the season, like, uh, booze. That's why you'll be happy to know that Applebee's is gifting everyone with special holiday-themed cocktails for the entire month of December for just $1.
Starting December 1, Applebee's is serving up bright red and green Jolly Dolly cocktails, which are vodka-based and mixed with your choice of either cherry or green apple Jolly Rancher mix. And the best part is they're only a buck.
Following in the tradition of its crazy-popular Dollaritas, $1 Long Island Iced Teas, and $2 beers, Applebee's latest cheap adult beverage offering will be available at participating locations for the entire month of December. Considering they're inspired by the sweet hard candy after which they're named, you can expect these to be equally sweet. Oh, and for good measure, each one is served with an actual Jolly Rancher candy on the side ('tis the season of overindulgence, after all).
"We created a drink to help spread the cheer as friends and loved ones gather together during the holidays," said Patrick Kirk, the company's vice president of beverage innovation in a press release. "The Dollar Jolly embodies the holiday spirit: joy, delight and good times. Oh, and vodka too."
Since the deal may differ from location to location, you may want to check ahead before dipping in for a budget-friendly happy hour. Though, fingers crossed, there'll be one near whatever shopping center you'll inevitably find yourself in sometime this month, desperately seeking some liquid stress relief.
Sign up here for our daily Thrillist email and subscribe here for our YouTube channel to get your fix of the best in food/drink/fun.