Applebee's Just Extended Its Huge $1 Margarita Deal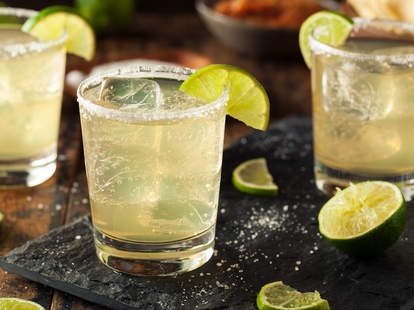 If you stop to think about, it's a little weird that Applebee's is doling out dollar margaritas every day in April. Just five days after the promotion concludes is Cinco de Mayo, an actual holiday in Mexico and, at American fast-casual restaurants, tequila Christmas.
Well, today Applebee's has connected the dots. It's extending the month of dollar margaritas -- cleverly nicknamed Dollaritas -- through May 5.
"Margaritas are extremely popular with our guests, and our Dollarita is the most refreshing drink money can buy," Patrick Kirk, vice president of beverage innovation at Applebee's, said when announcing April as Dollarita month. "We first introduced the Dollarita to America last October, and we're excited to bring it back in April as a reason to celebrate the return of spring."
Additionally, Applebee's took the opportunity to announce the cheap drink du mois for May. It will dish up $2 Dos Equis every day in May, which will make Applebee's kind of appealing for Cinco de Mayo, especially if you're going to a movie across the street. (There's always a movie theater across the street from an Applebee's, right?)
If you're just catching up on the cheap drink madness, back in October 2017, your local mozzarella stick purveyor began offering a drink of the month at a ridiculously low price. It started with the Dollarita and moved on to cheap Bahama Mamas and Long Island Iced Teas, among other drinks you recognize from Sex and the City. That's how we arrive at Cinco de Mayo 2018 with dollar margaritas and two-dollar Dos Equis. Even if you aren't in the market for a club sandwich, mixed drinks for a buck has a definite appeal.
Sign up here for our daily Thrillist email and subscribe here for our YouTube channel to get your fix of the best in food/drink/fun.

Dustin Nelson is a News Writer with Thrillist. He holds a Guinness World Record but has never met the fingernail lady. Follow him @dlukenelson.