Applebee's Has $1 Margaritas All Month Long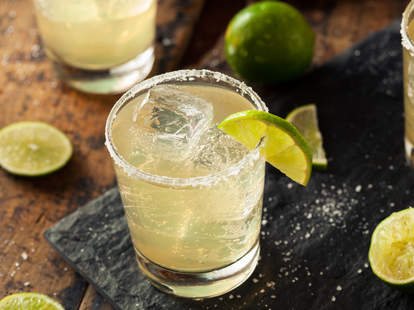 America, land of the free and home to an overabundance of fast-casual restaurants, loves spending minimal amounts of legal tender on a party. And while you might think of an airport TGI Friday's as the worst place to hunt for stupidly cheap libations, just know that Applebee's has a deal on offer for the entire month of October that will be hard to pass up: $1 margaritas. 
Yes, your friendly neighborhood purveyor of all things breaded, battered, and fried once more is serving up Dollaritas across the country for a total of 31 days as part of the restaurant's "Neighborhood Appreciation Month." Doing the math, it's not hard see how Applebee's is rendering your local dive bar a money pit. 
Patrick Kirk, the restaurant's vice president of beverage innovation, noted that the promotion is a way to curry favor with people who enjoy cheap drinks (and also a way to prove single dollar bills are not a completely obsolete relic of the 1950s):
"Our $1 margaritas in October give us a chance to show our guests a little love, giving them a totally unbeatable offer as a gesture of our sincere appreciation for their patronage," he said in a press release.
In terms of the fast-casual dining scene, this is welcome news in an otherwise bumpy month for one of Applebee's main competitors, Chili's, which recently axed 40% of its menu to help improve its staple dishes. And since no portion of Chili's menu revamp included a selection of margaritas served for $1, you probably know where you'll be heading for the foreseeable month-long future. 
Sign up here for our daily Thrillist email and subscribe here for our YouTube channel to get your fix of the best in food/drink/fun.
 
Sam Blum is a News Staff Writer for Thrillist. He's also a martial arts and music nerd who appreciates a fine sandwich and cute dogs. Find his clips in The Guardian, Rolling Stone, The A.V. Club and Esquire. He's on Twitter @Blumnessmonster.