Applebee's Is Unleashing $1 'Vampire' Cocktails for All of October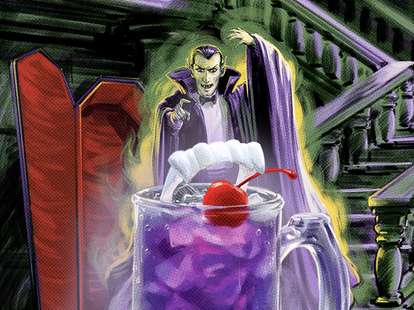 The underlying logic of Halloween is tenuous at best. Nonetheless, we've entered the month in which strangers expect us to give candy to their children for free. If you're an adult, you're not allowed to join that fun unless you're entirely immune to the withering stares of your neighbors.
However, instead of candy, you're getting access to cheap, sugary drinks, and the availability is not restricted to a single day. Applebee's Drink of the Month is a Halloween-themed punch is "a freaky tiki rum punch." They're calling it a Vampire. The purple liquid is served in a glass mug with plastic vampire teeth and a blood-red cherry.
Best of all, the drink only costs $1 and is available every day in October. Every day.
Applebee's will serve its "freaky tiki" drink in a 10-ounce mug with white rum, pineapple juice, a mysterious "vampire mix," and a Maraschino cherry on top for good measure.
The cocktail will be a nice antidote to grab after the neighborhood kids take away all your candy in the name of fun.
Sign up here for our daily Thrillist email and subscribe here for our YouTube channel to get your fix of the best in food/drink/fun.