Applebee's Has $1 Holiday Margaritas for the Entire Month of December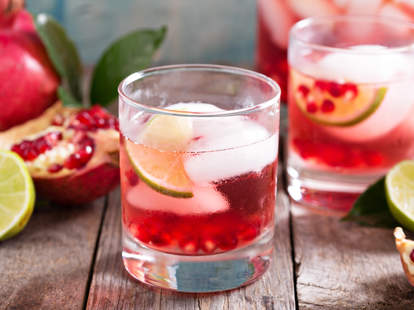 It's the coldest... no... scratch that... most magical time of the year. You got the shovel out from the basement, Santa's pounding vodka Red Bulls because he's on a deadline, and Mariah Carey is doing the backstroke in a swimming pool full of money.
Also, Applebee's Neighborhood Drink of the Month is a Dollarita, again. Every month the chain unveils a new cocktail that can be summoned to your hands for just a buck. The most popular installment of the monthly menu feature is a margarita. Though, they dub it a Dollarita. This month, it's a Merry Dollarita, the classic with a little pomegranate for good measure.
The $1 margarita is served in a 10oz mug with tequila, triple sec, lime juice, and a bit of pomegranate, making the summery drink just a little festive.
Yes, it's a situation where only participating locations are serving up one dollar drinks. Nonetheless, lots are participating, and even if it's not the best margarita you've ever had, it's hard to argue with the price. Tame the exhaustion of Black Friday and Cyber Monday with a cheap little present for yourself. Happy Holidays, you.
Sign up here for our daily Thrillist email and subscribe here for our YouTube channel to get your fix of the best in food/drink/fun.