Applebee's Is Serving Up $1 Cocktails All September Long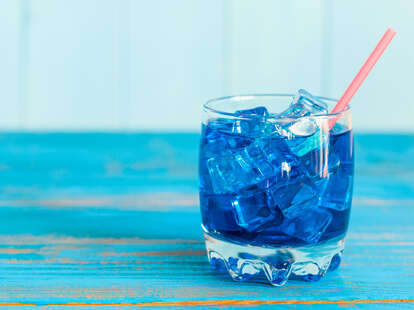 Shutterstock.com
Shutterstock.com
Every month, Applebee's serves up a new cocktail for just a buck, luring thirsty patrons before they hit a movie or get their ears pierced at Claire's. There's certainly a greater appeal to the chain's icy cocktails in the warmer months, and unfortunately, it's time to say goodbye to the luxurious heat of the summer.
In September, Applebee's is saying so long with a one-dollar Adios (more commonly known by bartenders under a title with a little swearing after Adios -- that part has been omitted by the family-friendly restaurant for obvious reasons). The drink is kind of a fruity cousin of the also dangerously boozy Long Island Iced Tea.
The bright blue, multi-liquor cocktail is served in a 10oz mug with a swirling party of hard liquors including vodka, rum, tequila, and gin. There's also blue curacao, sweet & sour, and Sierra Mist in there.
"Guests are going to really love our refreshing, vibrant $1 Adios," Patrick Kirk, vice president of beverage innovation, said in a statement. "Say goodbye or hello with our take on this special drink that's packed with spirits and gives you a reason to kick back and enjoy."
"Adios" or a cocktail is an unexpected way to say hello, but there's still something alluring about an icy cocktail on a patio during summer's last gasp.
Sign up here for our daily Thrillist email and subscribe here for our YouTube channel to get your fix of the best in food/drink/fun.