Your back is sweating, and there's no shade to be found. Summer has fully kicked in. It's kind of just hot everywhere. Well, Applebee's Neighborhood Drink of the Month feels you. 
Every month, Applebee's announces a new drink that it will sell for absurdly cheap. In July, the ubiquitous casual chain wants to help you escape your back sweat for sweeter, more tropical climes. It will be serving $1 Malibus every day in July. The restaurant is calling it the "Malibu Dollarmama."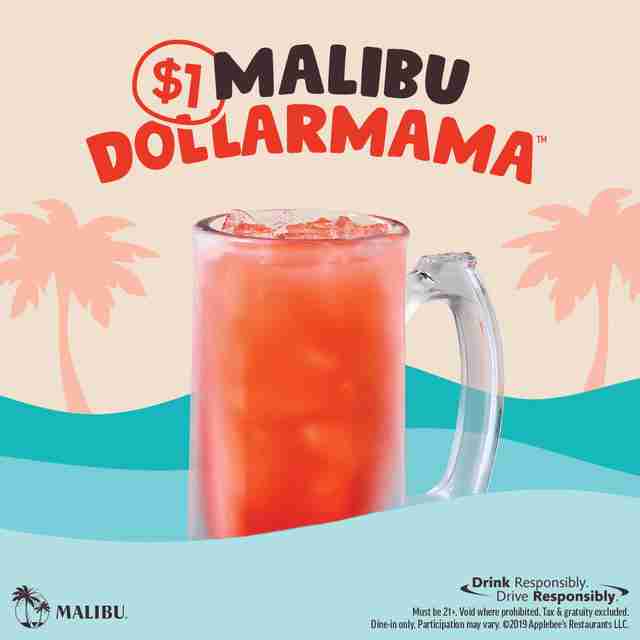 The dollar drinks are available at participating locations, according to a company spokesperson. They will be served in a 10oz mug with Malibu Coconut Rum, Tropicana Orange Juice, and Tropicana Pineapple Juice. 
"Malibu Coconut Rum is unquestionably a fan favorite, so we've added this premium liquor to our ever-popular Neighborhood Drink of the Month," said Patrick Kirk, vice president of beverage innovation, in a statement. "If you're looking for a new cocktail to cheers to summer with, the Malibu Dollarmama has you covered."
Since they're just a buck, cocktail lovers will point out that you probably get what you pay for. On the other hand, they're a dollar. Of course you aren't getting fresh-squeezed juice and top-shelf booze.
If you've missed out on past installments of the Neighborhood Drink of the Month -- like dollar margs or vodka raspberry lemonade -- belly up to the bar. It's a nice solution when you have to hit a suburban mall to see the new Spider-Man and your pre-movie drink options are limited to Applebee's or Dave & Buster's. 
Sign up here for our daily Thrillist email and subscribe here for our YouTube channel to get your fix of the best in food/drink/fun.