Applebee's Created a Lip Gloss That Tastes Like Your Favorite Chicken Wing Flavors
The chain is celebrating National Chicken Wing Day and National Lipstick Day with the launch.
Applebee's has built a solid reputation on cheap drink deals and good wings, but now, the neighborhood grill and bar is bottling its buffalo sauce in an unexpected format.
To celebrate National Chicken Wing Day and National Lipstick Day, Applebee's is marrying the two and introducing a collection of lip glosses inspired by its fan-favorite wing flavors.
On Friday, July 29, the chain released its Saucy Gloss on WinkyLux.com in single packs for $18 or the complete set for $65.
The flavors include:
Give Me Hot Buffalo: a "creamy coral that packs the hot buffalo spice your ex could never have handled"
Sweet Chile Kiss: a deep red with fine golden chile specks called
Be My Honey Pepper: a golden honey-spiced gloss with shimmering flecks
Honey BBQ-T: a smoky barbecue hue with a hint of honey sweetness.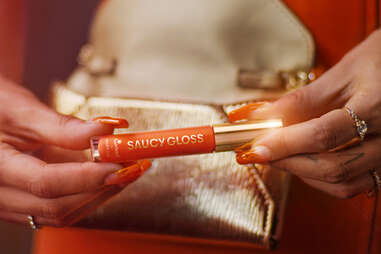 "Applebee's is known for first dates and wings—which are one of our most popular menu items," Chief Marketing Officer Joel Yashinsky said in a statement. "So, we partnered with the development team at Winky Lux to create these lip glosses inspired by four of our most popular wing sauces. Find your perfect shade and spice up your date night by adding a little bit of that Applebee's flavor to make each kiss even more craveable with Saucy Gloss."