Applebee's Is Unleashing $2 Beers For the Entire Month of September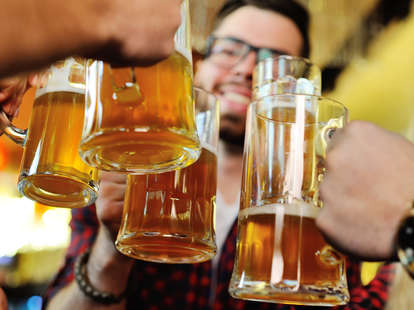 Almost every month Applebee's drops a month-long drink special it calls the Neighborhood Drink of the Month, and it's often a one-dollar cocktail. The bar and grill chain is certainly not Dead Rabbit when it comes to cocktails, but it's hard to deny the appeal of a $1 margarita (dubbed the Dollarita) or a one-buck Long Island Iced Tea.
The arrival of Labor Day can make it feel like the end of summer -- even if some of us are firmly on board the "summer isn't over" train -- and Applebee's new deal of the month is hastening that sensation. While you wait for your mozzarella sticks to arrive, you'll be able to throw back a $2 Sam Adams OctoberFest beer.
The deal is valid across the country at participating locations and will be available from September 1 to September 30. However, with the $2 price tag you're not getting a giant stein of golden malt magic. The Applebee's pour comes in a 10-ounce mug. Before you get too worked up about that pour, a reminder that the beer costs just $2.
Bust out your lederhosen and throw back your first Marzen of the season. It's a solid way to get a head start on the end-of-month celebration.
Sign up here for our daily Thrillist email and subscribe here for our YouTube channel to get your fix of the best in food/drink/fun.

Dustin Nelson is a News Writer with Thrillist. He holds a Guinness World Record but has never met the fingernail lady. Follow him @dlukenelson. dnelson at thrillist dot com