Applebee's Is Unleashing $2 Bud Lights for the Entire Month of November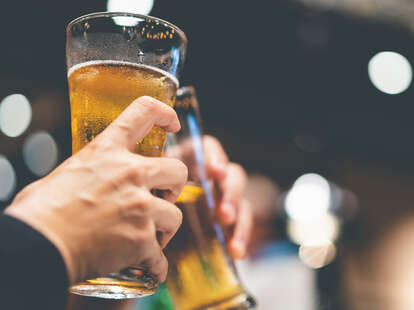 Applebee's has really run with its Neighborhood Drink of the Month promotion, which started with the insanely popular Dollaritas back in 2017. Last month, the fast-casual hub went with the wonderfully thematic Dollar Zombie cocktail featuring a floating gummy brain. In November, they're going much more basic. You can pick up a $2 Bud Light any day this month, including Election Day and a potentially disheartening day after Election Day.
The promotion is called the $2 Dilly Dilly, because, in case you haven't noticed, Bud Light's Dilly Dilly promotion is still hanging around. Applebee's announced the promotion to "loyal followers of the kingdom of Applebee's" and encouraged people to raise their mug and shout "in your finest medieval voice 'Dilly Dilly!'" (Your bartender will love that.)
The $2 drink comes in a 10-ounce mug, which isn't gigantic but is still a solid deal at just two bucks.
These promotions seem likely to continue for the foreseeable future because they're getting people in the door, Applebee's president John Cywinski recently told CNBC. During the third quarter, same-store sales rose 7.7% for the company, while the rest of the industry saw a much more modest 1.2% rise, according to Black Box Intelligence data.
"The beverage program is important to us," Cywinski told CNBC. "Half of our growth is dine-in and a good chunk of that is beverage driven. ... Frankly, because [customers] are getting a great value on the beverage side, they tend to be ordering desserts and appetizers."
Long live the Dollarita and cheap monthly drinks.
Sign up here for our daily Thrillist email and subscribe here for our YouTube channel to get your fix of the best in food/drink/fun.