Apple's New Peach Emoji Doesn't Look Like a Butt
The peach emoji used to look like a butt. It was ripe, pink in color and voluptuous, providing the perfect cause for late-night sexting with your boo. But despite being universally adored, the peach wasn't the sex-symbol we deserved. Launched Monday, the beta-version of Apple's newest iOS 10.2 offers a new batch of emoji, complete with a surprisingly un-sexualized peach.
It's a sad sight for horny people everywhere:
As Mashable notes, the internet is decrying the tragic loss of the sensuous fruit, a.k.a. your smartphone's last great symbol of lust. But there is light at the end of the tunnel, as the update offers users complete access to Unicode 9.0, which contains a lot of venerable emoji from years past, but also brings some new-moji to the fore.
Courtesy of Emojipedia, let's start with the facepalm, for when your friend texts you something really stupid and you suddenly become illiterate: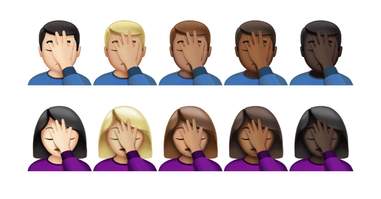 If you've ever yearned for the shruggie's glittering introduction, say goodbye to  ¯\_(ツ)_/¯ and hello to:
 
There's also a glut of emoji that capture your burning desire to send ducks, Harambe gorillas, salads, drums and salivating smilies to your buds: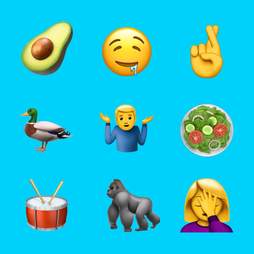 Emoji for working people are back too. Firefighter and Judge are among the new ones, all of which come in male, female and multi-ethnic varieties:
Sign up here for our daily Thrillist email, and get your fix of the best in food/drink/fun.
Sam Blum is a News Staff Writer for Thrillist. He's also a martial arts and music nerd who appreciates a fine sandwich and cute dogs. Find his clips in The Guardian, Rolling Stone, The A.V. Club and Vice. He's on Twitter @Blumnessmonster.