Losing Just One AirPod Earbud Will Cost You $69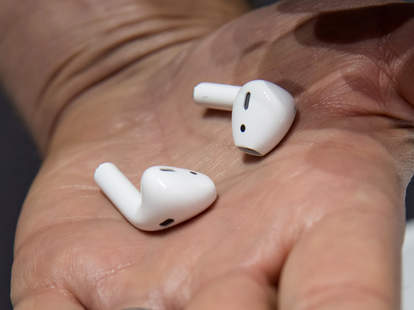 Apple finally started selling its much-hyped AirPods -- the "revolutionary" wireless earbuds it promised alongside the iPhone 7 back in September -- on Tuesday. Now, the company has released new details on how much it'll cost you to repair or replace the devices, you know, as if paying $159 (or more) for them wasn't enough. 
Apple recently updated its iPhone Service Pricing page to include AirPods, according to a report by Macrumors, likely to give you a feel for what to expect at the Genius Bar when you inevitably lose one of the damn things. AirPods come with Apple's standard one-year warranty that doesn't cover wear and tear (like the battery decreasing in capacity over time), damage, or if you lose them, according to the pricing page. 
Specifically, Apple will charge you $49 to fix the AirPods' built-in battery or charging case, but will do the same repair for free in the event it determines the battery to be defective. You'll have to cough up $69 to replace each AirPod you lose, $69 to replace the charging case, and $69 for any repair you need outside of the warranty. In other words, don't lose them. And don't break them -- unless you enjoy giving Apple more of your money.
Here's breakdown of the fees:
Yes, $69 for a replacement or repair is a lot better than paying $159 to get a whole new set, but that won't make it hurt any less when you misplace something that's seemingly so easy to lose. Maybe there's something to those aftermarket AirPod straps after all. 
Sign up here for our daily Thrillist email, and get your fix of the best in food/drink/fun.
Tony Merevick is Cities News Editor at Thrillist and already spends enough money on Apple products... Send news tips to news@thrillist.com and follow him on Twitter @tonymerevick.