Arby's Is Bringing Pork Belly Sandwiches Back For a Limited Time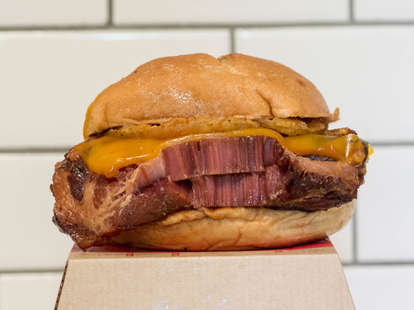 ANDY KRYZA/THRILLIST
ANDY KRYZA/THRILLIST
Arby's has made a habit of tinkering with meats most fast food restaurants aren't even thinking about serving. Over the last year, the chain has released a lamb gyro, a venison sandwich, and they dabbled in pork belly sandwich last fall. Now, the gatekeepers of meat mountain are bringing the Smokehouse Pork Belly Sandwich back for a limited run in May.
Arby's says the Smokehouse Pork Belly Sandwich, when released last year, became one of its most popular sandwiches. Maybe it's smoke and meaters, but they're billing the return of the "alternative bacon" sandwich as a "back by popular demand" kind of event.
"The response [to the initial release] was remarkable," said chief marketing officer Rob Lynch, "significantly exceeding our wildest expectations. So we worked hard to bring it back as soon as possible."
The Smokehouse Pork Belly Sandwich contains two strips of pork belly, cheddar cheese, crispy onions, BBQ sauce, and mayo on a roll. Additionally, they'll be re-releasing the Smoke Mountain Sandwich, which has smoked pork belly, smoked brisket, and smoked ham with crispy onions, smoked cheddar cheese, and BBQ sauce.
Thrillist did a taste test of the Smokehouse Pork Belly Sandwich in the fall and it got pretty passable marks. Andy Kryza called it "weirdly alluring." If you missed your chance to get a mouthful of the pork belly trend in its weirdly alluring fast food form, head toward that quivering meat mountain on the horizon. They'll hook you up, but only until the end of May.
Sign up here for our daily Thrillist email, and get your fix of the best in food/drink/fun.
Dustin Nelson is a News Writer with Thrillist. He holds a Guinness World Record but has never met the fingernail lady. Follow him @dlukenelson.