Arby's Is Ruthlessly Trolling McDonald's on Twitter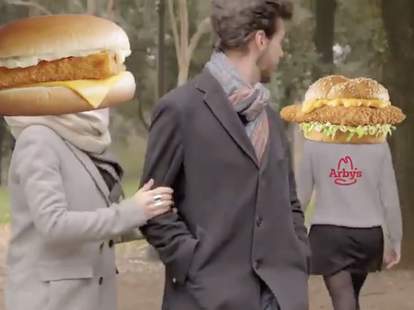 If Ronald McDonald is our fast food protagonist, Wendy is the witty little girl who bullied him on the playground. Wendy's impressively brutal Twitter clap-backs have dominated the whole "brand Twitter" sphere for quite some time, but now it seems like Ronnie's hitting puberty and facing a new kind of antagonist: Arby's, otherwise known as Mr. Steal Yo Girl. 
The maturing Ronald McDonald just wants to be loved, and loved he undeniable is, During Thrillist's recent fast food awards, The Fasties, McDonald's French fries won the people's choice award, but Arby's Curly Fries earned the title of best overall. And now it seems Arby is getting cocky, with a recent troll campaign depicting a personified Fish 'N Cheddar stealing the heart of someone previously courting a McDonald's Filet-O-Fish.
This jab seems to say sure, Micky D's is taller, but size isn't everything, gentlemen. It's also about the motion of the frying pan.
And these two tell a riveting tale of temptation and infidelity, which seems an appropriate contrast to the Filet-O-Fish, which Jesus himself actually helped to invent. 
Sign up here for our daily Thrillist email and subscribe here for our YouTube channel to get your fix of the best in food/drink/fun.