Arby's Is Slinging Giant Turkey Legs for the 'Game of Thrones' Finale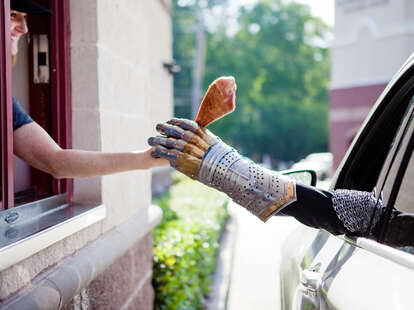 Between the epic return of fire swords, giving the world dragoneering like it's never seen before, and hammering home its best allegory, HBO's seventh season of Game of Thrones looks like it's about to roar to a soaring conclusion this coming Sunday night. Appropriately Arby's -- which could never be accused of shying away from medieval-sized helpings of meat -- is unleashing a special offer at selected locations before the season wraps up: Game of Thrones-style giant turkey legs.
That's right, if you're able to get yourself to any of the nine Arby's locations in major cities below, you too can stuff your face like the Hound. This may even be license to walk up to the cash register to order, dropping yoiur voice down to a low, low register, and (politely) telling the cashier: "I'm going to have to eat every fucking turkey leg in this room." Or something like that.
That may sound extreme, but it seems necessary. Per Arby's news release, its new Smoked Turkey Leg menu item "is seasoned with salt and brown sugar, smoked and then slow-roasted to perfection." It will be available in just nine cities across the country (listed below), and is "fit for a king or queen," states the release, which liberally riffs on the medieval speech used in Thrones.
They officially go on sale Sunday, August 27, the same day as the Game of Thrones season finale.
Fargo, North Dakota
1117 38th St. NW, Fargo, ND 58102
"A frigid land in the north with ruthless winters and relentless snowfall."
Los Angeles, California
347 East Main St., Alhambra, CA 91801
"A western land known for its bountiful amount of gold and riches.
Seattle/Redmond, Washington
15115 NE 24th St., Redmond, WA 98052
"A land of storms, savaged by heavy rain and wind, with a coast of deep blue water."
Norfolk, Virginia
730 East Little Creek Rd., Norfolk, VA 23518
"A land of ships and sailors surrounded by giant vessels forged from iron."
Pittsburgh, Pennsylvania
4810 McKnight Rd., Pittsburgh, PA 15237
"A land of powerful rivers, defined by the trident of the Allegheny, Monongahela, and Ohio."
Phoenix, Arizona
2402 West Thomas Rd., Phoenix, AZ 85015
"A land of sand and sun, known for its harsh desert climate."
Denver, Colorado
1480 South Colorado Blvd., Denver, CO 80222
"A land of treacherous mountains divided by fertile river valleys with an abundance of stones.
Omaha, Nebraska
8429 West Center Rd., Omaha, NE 68124
"A land of fertile farms that provides many of the crops that feed the country."
Atlanta, Georgia
4415 Roswell Rd., Atlanta, GA 30342
"A land where the crown jewel of the Arby's family, our headquarters, resides."
Sign up here for our daily Thrillist email and subscribe here for our YouTube channel to get your fix of the best in food/drink/fun.