Arby's First Ever Holiday Shop Has a Bunch of Weird Stuff, Like 'Meaterhosen'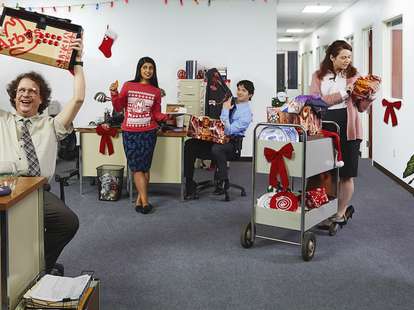 Courtesy of Arby's
Courtesy of Arby's
Arby's, as they say, has the meats. Whether it's sliced roast beef, turkey, ham, or wrapping paper covered in images of meat, Arby's probably has it.
If you have someone in your life who is so devoted to meats, especially of the thin-sliced variety that shows up in most of Arby's sandwiches, then perhaps you can gift them with an item for Arby's first-ever holiday shop. As we mentioned, there is meat-wrapping paper, which you can use to wrap a classic Arby's t-shirt, an Arby's holiday sweater, or an unholy Arby's creation called "meaterhosen." It's lederhosen... but decorated with meat.
You can snag the "meaterhosen," which would honestly make for a pretty amusing Oktoberfest outfit, for a mere $30 or opt for a T-shirt for $15. If you're really devoted to completing the Arby's look, an iconic 10-gallon hat is also for sale at $20. Pretend to be Pharrell.
Arby's isn't the only fast food chain to provide Christmas cheer in the form of selling unnecessary clothing. Popeyes just launched a Christmas sweater devoted to its iconic chicken sandwich, whereas Taco Bell's shop has fire sauce onesies and a snow globe. Even Qdoba got in on the madness with a queso-scented candle.
Anyhow, if you or someone you know was desperately looking for wrapping paper that replicates meat, you've found it. Forget snowflakes and jolly cartoon depictions of Santa Claus -- meat is practical.
Sign up here for our daily Thrillist email and subscribe here for our YouTube channel to get your fix of the best in food/drink/fun.
Kat Thompson is a staff writer at Thrillist. Follow her on Twitter @katthompsonn.