Arby's Just Unleashed a Truly Weird Set of Oktoberfest Clothes Called Meatoberfest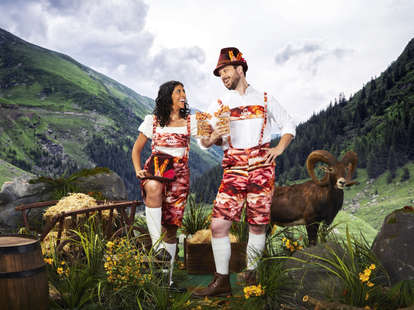 You don't need to be familiar with its big ol' roast beef to know that Arby's seriously loves its meat. It loves meat like Frodo likes a piece of finely crafted jewelry.
If a long history of meat-centric living doesn't convince you of Arby's love for meat, maybe these lederhosen will. Oktoberfest in Germany has come to a close, but Meatoberfest at Arby's is just starting today. Arby's has announced a meat-themed pseudo-holiday centered around co-opting the trappings of Oktoberfest but, you know, with meat.
The chain has unveiled three Meatoberfest Sandwiches: Beer Braised Beef, Double Roast Beef, and Beer Cheese Triple Stack. All three sandwiches come with beer cheese sauce, beer-braised beef, beer mustard, and a toasted pretzel roll.
Perhaps more notably, the Meatoberfest website, which will officially launch on Friday, includes clothing you can buy a $30 a crack. The hearty sartorial options include Meaterhosen, lederhosen with meat printed everywhere; a Beefvarian Hat, a hat accented with bacon; and Das Hat, a boot-like glass stein that's actually in the general shape of the Arby's hat logo. The last one can be filled with beer or, as is the case in the press image above, curly fries. Whatever floats your brat.
Sign up here for our daily Thrillist email and subscribe here for our YouTube channel to get your fix of the best in food/drink/fun.