Oreo Doughnut Holes Have Arrived at Arby's and They're Served Warm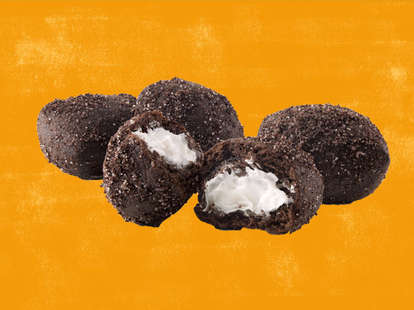 As Arby's often reminds you, it has the meats. Now, the fast-food chain is also trying to prove it has the treats. For a limited time, Arby's is serving warm Oreo Bites, which are just Oreo doughnut holes.
Oreo Bites are fried chocolate doughnuts loaded with chunks of Oreo in the dough. Then, those little fellers are filled with Oreo créme and, the company says, "dusted with Oreo sugar blend." Oreo doughnuts isn't a new concept, but serving these balls o' sugar warm is a difference maker.
This isn't a forever thing, though. The doughnuts are available now, but they will only be available through March. They cost about $2.59 for a six-pack.
You should eat better than this in the morning, but no one will judge if you can't resist the allure of a breakfast where you dip Oreo doughnuts in a mint chocolate shake, which was recently brought back for a limited time as well. If you're judging, just remember you've eaten cold pizza and veggie fried rice for breakfast before. Hopefully, not together. (Never mind. Hopefully, together.)
Sign up here for our daily Thrillist email, and get your fix of the best in food/drink/fun.
Dustin Nelson is a News Writer with Thrillist. He holds a Guinness World Record but has never met the fingernail lady. Follow him @dlukenelson.