Arby's Is Selling a 1,000-Piece Puzzle of Curly Fries, Mozzarella Sticks & Sandwiches
Warning: will cause curly fry cravings.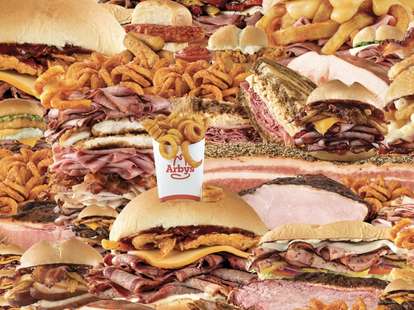 I'm not a puzzle person. In fact, if you told me three months ago I'd spend a lazy Sunday sprawled out at the kitchen table assembling a 1,000-piece beach landscape, I'd tell you you're nuts. But here we are. Quarantine changes things.
But it is time to toss out those tired grassy knolls and Mona Lisa jigsaws for something more... on brand. In the spirit of our new stay-at-home hobby, Arby's has created a 13-hour puzzle covered in the chain's curly fries, mozzarella sticks, and meat and cheese-stuffed sandwiches.
The 1,000 part jigsaw might not actually take you 13 hours -- though, it's not a bad estimate -- but it was inspired by the fast food joint's fan-favorite 13-hour brisket. "What's the difference between Arby's New 13-Hour Puzzle and Arby's Classic 13-Hour Smoke Brisket?" the product description cheekily reads. "Just one bite and you'll know this one is a puzzle."
The puzzle's currently available in Arby's online shop for $25 and will ship in three weeks. Though, I have to warn you, it'll absolutely incite cravings. So you might want your Uber Eats, Postmates, whatever queued up for an order of curly fries.
If you really wanna wear your heart for roast beef on your sleeve, you can. The Arby's shop features a whole bunch of other merch, including hoodies, socks, even beach wear.
Sign up here for our daily Thrillist email and subscribe here for our YouTube channel to get your fix of the best in food/drink/fun.
Megan Schaltegger is a staff writer at Thrillist.