Pizza, Ham, and Pickle-Flavored Candy Canes Exist for Those on the Naughty List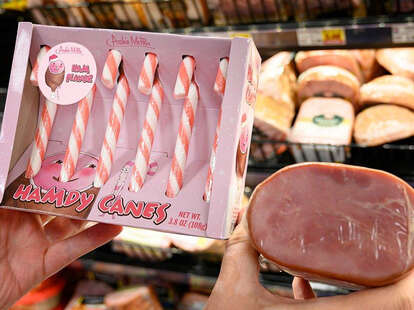 Edited - Courtesy of Archie McPhee
Now that summer is unofficially over, it's apparently OK to set your sights a few months ahead -- beyond all the Pumpkin Spice Lattes and Halloween treats -- to the holidays, when candy canes and honey baked hams are king. If you're of that mindset (we won't judge too much), then you might as well kill two birds with one stone via ham-flavored candy canes. Or, uh, Hamdy canes, if you will.
Archie McPhee's, a purveyor of "impractical items that make life better," has an extensive line of weirdly flavored candy canes, including flavors like pizza, mac & cheese, and pickles, among others. The Seattle-based retailer has basically distilled your favorite foods into twisted candy form, which we agree, isn't very practical but potentially delightful. Don't lie, you're curious as to what a bacon-flavored candy cane may taste like. And you don't have to wonder much longer.
For the more health-conscious, Archie McPhee also offers a kale-flavored candy cane, or a clam one -- a clamdy cane -- if you're a New Englander seeking a "candy clamity." Their words, not ours.
You can buy an assortment of the, uh, interesting-flavored candy canes through Archie McPhee's online. The six-pack of canes retails between $6 and $6.50.
Though candy cane season is still months away, it's never too early to stock up on bizarre candy cane flavors to ensure every stocking in the household is sufficiently weird. You have to keep people on their toes, right? It sure beats coal.
Sign up here for our daily Thrillist email and subscribe here for our YouTube channel to get your fix of the best in food/drink/fun.
Kat Thompson is a staff writer at Thrillist. Follow her on Twitter @katthompsonn.