If land ever becomes totally uninhabitable, turns out we can all just live in the ocean, kind of like Aquaman, but without the hideous outfit. 
Vincent Callebaut Architectures has conceptualized a completely sustainable underwater village, known as "Aequorea," which could hold up to 20,000 "aquanauts." Inhabitants would enter the spiral "oceanscrapers" through four marinas on the surface. Once under the sea, they would find modular living quarters, co-working spaces, and hotels among other facilities. To make this even more of a Portlandia dreamscape, the structure would be built entirely out of recycled materials. But keep in mind, this remains only a "concept" at the moment. 
Going with the whole environmentally friendly theme, Callebaut envisions that light in the village would be powered through bioluminescence, utilizing the naturally produced luciferin of nearby symbiotic organisms. On that same train of thought, water turbines could convert sea currents into energy and an ocean thermal energy conversion power plant could also help power the village. 
The structure is also earthquake safe. The geometry of the "oceanscrapers" can apparently fight marine whirlpools, and the Aequorea's center of gravity is low enough to counteract buoyancy. In addition, the outer shell's thickness is designed to deal with increased pressure. 
It all sounds great, but what does it look like? Check out the aesthetics below. It looks pretty cool, is the answer. 
Recommended Video
Please Don't Hang Up: The Best BBQ & Barcade in Dog-Friendly Kansas City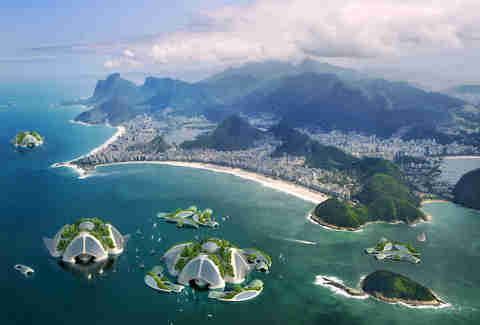 Sign up here for our daily Thrillist email, and get your fix of the best in food/drink/fun.
Kara King is a News Writer at Thrillist and is still trying to find Nemo. Send news tips to news@thrillist.com and follow her at @karatillie.