Weed-Infused Arizona Iced Tea Drinks & Products Are on the Way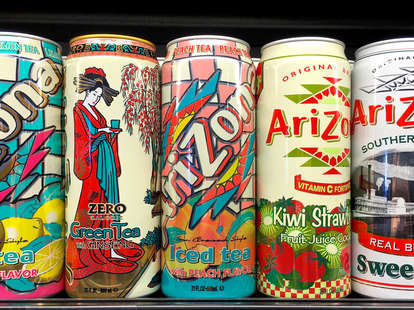 Cannabis-infused products have come a long way since your older brother was clandestinely using the family oven to bake pot brownies. In fact, they've gone so mainstream in the wake of the weed legalization wave in this country that major brands like Carl's Jr. and Ben & Jerry's are even getting in on the action with CBD-infused fare. You can add another one to the lineup, too, because the maker of Arizona Iced Tea just announced it's ready to go all-in on weed-infused products.
In a twist that would have shocked your tweenage iced tea-guzzling self, the brand behind the ubiquitous 99-cent cans of iced tea and other various juices are teaming up with a cannabis company in an effort to enter the marijuana-laced product market, according to a new report by The Wall Street Journal. Though the deal is in its early stages and it's unclear what products will ultimately be developed, officials told the WSJ that Arizona will likely start with vape pens and gummies, and eventually branch out into teas, lemonade, soda, coffee, and possibly seltzer.
In terms of specifics, this is technically a licensing deal between Arizona Beverage Company and Dixie Brands, a Denver-based cannabis company. And while many states have legalized weed, it remains prohibited on a federal level, which complicates the arrangement a bit since cannabis cannot be transported across state lines. Under this deal, Dixie will manufacture the products in each state where they'll be sold, then sell them through licensed dispensaries.
"You've got to be willing to try things," said Don Vultaggio, Arizona's chairman and CEO, in an interview with the WSJ. "The upside is we're one of the first ones in an emerging space."
As the paper points out, Arizona is the first big beverage brand to jump on the trend, following Lagunitas Brewing's California-only release of a THC-infused sparkling "hop water" last year.
Considering the ink on the deal is still wet, don't expect to see any Arizona-branded weed gummies or drinks sitting on dispensary shelves in the immediate future. When you do, though, something tells us they'll be quite a bit pricer than the 99 cents you're accustomed to paying for cans of the THC-less stuff.
Sign up here for our daily Thrillist email and subscribe here for our YouTube channel to get your fix of the best in food/drink/fun.