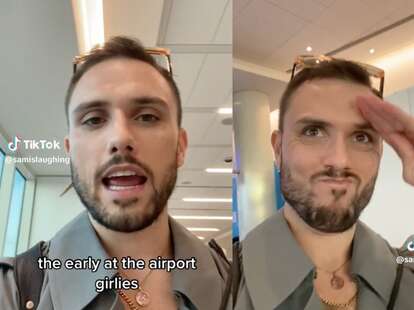 @samislaughing/TikTok
@samislaughing/TikTok
The girls who get it, get it, the girls who don't, don't. I'm talking about being a proud member of the "Early at the Airport Girlie" community, which I definitely am.
To some people (especially you "Late to the Gate Girlies"), the airport is just a stressful, crowded space that stands in between (or, better, is a hindrance between) you and your dream destination, but for some of us, it is a fantastic playground, and there are some things early at the airport girlies do to make the most out of it.
On TikTok, our community is solid, and united. In a video that recently went viral with almost 500,000 views as of Friday, TikToker @samislaughing shared the second part of his ode to the "early at the airport" community (the first video in support of it racked around 1.2 million views).
"Here at the airport representing some of my favorite people once again—the early at the airport girlies" the TikToker says in the video. "We are at our favorite part of the airport, which is after security. We have two hours of goofing off."
And that's exactly it. That's why we do it—we want to arrive early enough so that we have time to destress and do whatever we want. As @samislaughing mentions as well, arriving early gives us time to grab some snacks, get a coffee or sip on a drink, and grab some treats for our flight. Basically, it gives us time to pre-vacation our vacation.
The comment section seems to agree. One user defined arriving early as "pre-planned pre-scheduled relax time," and in line with that thought, another person pointed out that relaxation can get to a whole new level if you're a committed early at the airport girlie. "Sometimes the airport has a spa and that's why we ride at dawn (even if it's a red eye)," they said.
Another thing us members of the community do is checking out the duty free—specifically, perfumes. "Duty free perfume time babes," as one TikTok user named us in the comment sections, are a subgroup within the community, and a popular one, too. It's one of the luxurious-feel things you can do if you get to the airport early enough. You don't simply stroll by the duty free, you actually visit it, and while you're at it, you head over to the perfume section to either find your favorite or try a new one, and use the tester to spray some on you before your flight. I can promise you it will suddenly make you feel refreshed, confident, and somehow relaxed.
A few community members also swear by arriving early at the airport to get more work done. "I do my best work at the airport," claims one user. "I went like 3.5 hours early yesterday and did a literal [month's] worth of work."
Some of us, though, also use arriving early as a way to combat the travel-related anxiety we struggle with. As one user puts it, "the earlier I get to the airport the sooner I can get over my anxiety of getting to the airport on time."
While within the community there are some different subgroups of people, there is one thing we all have in common—and that we all do—that is a fundamental part of arriving early at the airport. And that thing is checking that the gate exists. "If i don't see the gate with my own eyes," notes one comment, "It doesn't exist."