Atari-Themed Hotels Are Going to Open Across the U.S.
A retro gaming console you can sleep inside, more or less.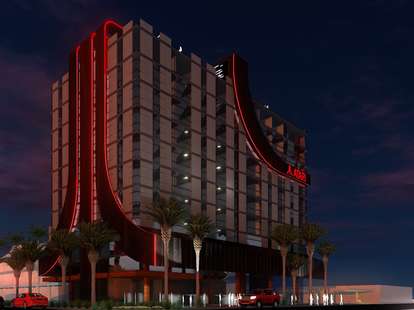 Over the last few years, options for playing old school video games have become incredibly accessible. Miniature versions of consoles like NES Classic, Sega Genesis Mini, classic Sega games on your phone, or SNES Classic, as well as bar arcades and mini arcade machines, have become commonplace. Atari, which has attempted to release its own retro console (we'll get to that later), is leveling up the old school gaming fervor with entire hotels dedicated to gaming.
On January 27, Atari announced plans for eight Atari Hotels. The iconic gaming company is breaking ground on the first of these, to be located in Phoenix, at some point in the middle of 2020. The licensing deal will allow GSD Group and True North Productions to build what they hope will be a dream stay for serious gamers.
It's still early, so details on what it's like to stay at an Atari Hotel are hazy at best. The announcement promises "fully immersive experiences" for "every age and gaming ability." There will be both VR and AR experiences, as well as venues for esports events at some, if not all, of the hotels.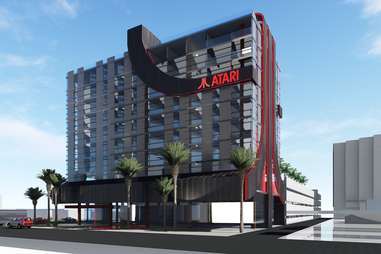 Atari Hotels also promise totally normal hotel things like meeting rooms, co-working spaces, bars, restaurants, a movie theater, and a gym. So, theoretically, you'll have Bluetooth-ed businesspeople sitting alongside bleary-eyed gamers enjoying complimentary bagels after an all-night Fornite melee.
"We are thrilled to partner with GSD Group and True North Studio to build the first-ever Atari branded hotels across the United States. Together we'll build a space that will be much more than just a place to stay," Atari CEO Fred Chesnais said in a statement.
Diehard Atari fans might raise an eyebrow at the project, however, after the debacle that has been the release of the Atari VCS, a retro-console loaded with Atari games. At least, it will be loaded up with Atari games once it's finally released. The company ran an Indiegogo campaign to fund the project in 2018 with promises of consoles being delivered at some point in mid-2019. The company has missed shipping deadlines and has reportedly had more than a couple of problems throughout the development process.
If everything with the hotels stays on schedule, Phoenix will open first. It will be followed by Atari Hotels in Las Vegas, Denver, Chicago, Austin, Seattle, San Francisco, and San Jose. Sorry, east coasters.
Sign up here for our daily Thrillist email and subscribe here for our YouTube channel to get your fix of the best in food/drink/fun.