This Falcons Fan Couldn't Stop Knocking the Cheese off Packer Fans' Heads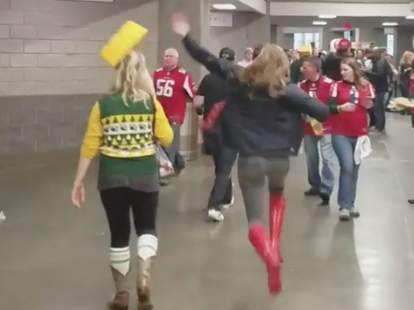 Instagram Screengrab @atlpackman
In Sunday's NFC Championship bout, Matt Ryan and the Atlanta Falcons took it to the Green Bay Packers, jumping out to a 17-0 lead in the first half. The Packers would never recover from that deficit and the Falcons would punch a ticket to the Super Bowl in front of their fans in Atlanta. (It was a good lead, but it's an ominous lead for Falcons fans. The Falcons blew a 17-0 lead in the NFC championship to the 49ers back in 2013.)
But winning just wasn't enough for one Dirty Birds fan. While Ryan and Julio Jones mercilessly beat the cheeseheads on the field, one fan mercilessly knocked the foam cheese off actual heads.
At least five times during Sunday's action in Atlanta a woman ran up to a Packer fan and knocked their cheesehead to the ground. We know this because her friend recorded these cruel acts of cheese harassment and posted them to Instagram (@atlpackman).
Some victims laughed along and had some fun with the harmless prank (even if it was a bit mean-spirited). Others did not enjoy the "joke" all that much.
It's nice to see some people laugh about it, but it was a damn cruel joke. These folks traveled a long way to have their season ended. Give 'em a break. It's going to be a long, sad flight back to the land of New Glarus and cheese curds. 
UPDATE:
The Instagram posts have been replaced with the same videos as shared on Twitter.
h/t SB Nation
Sign up here for our daily Thrillist email, and get your fix of the best in food/drink/fun.
Dustin Nelson is a News Writer with Thrillist. He holds a Guinness World Record but has never met the fingernail lady. He's written for Sports Illustrated, Rolling Stone, Men's Journal, The Rumpus, and other digital wonderlands. Follow him @dlukenelson.