After all your childhood mornings of drenching freshly toasted waffles with absurd amounts of maple syrup and butter, you'll probably always have a special place in your heart -- and freezer -- for frozen waffles. But if you have Aunt Jemima frozen waffles, pancakes, and other breakfast items in your freezer, then don't eat them, according to a massive recall from the company.
Pinnacle Foods Inc., which produces Aunt Jemima brand foods, has launched a nationwide recall of more than a dozen frozen breakfast products -- waffles, French toast, pancakes, among others -- of all "best buy" dates over fears of listeria contamination. Specifically, the company said it detected Listeria monocytogenes bacteria in its plant environment and launched the recall as a "a precautionary measure." The recall doesn't include Aunt Jemima syrups or dry mixes, though.
Here's a full list of the potentially contaminated products and their UPC codes, per the official recall announcement from the US Food & Drug Administration:
Recommended Video
Thrillist's Best (and the Rest): What You Actually Need to Know About Natural Wine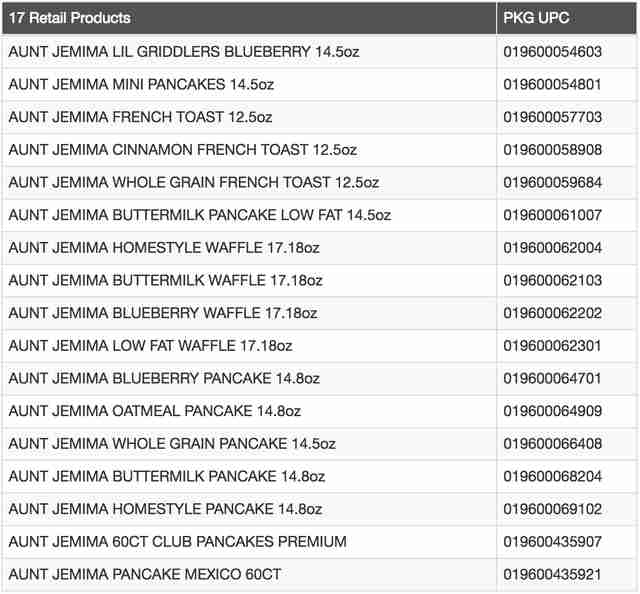 So far, there have been no reports of illness associated with the products. In case you're wondering, Listeria infections in healthy people often involve symptoms such as high fever, severe headache, stiffness, nausea, abdominal pain, and diarrhea, according to the FDA. For young kids, the elderly, and people with weakened immune systems, the illness can be much more serious. So, again, don't eat the aforementioned foods if you have them.
Instead, Pinnacle said you can return the products to wherever you bought them for a full refund. The company has also set up a line for questions regarding the recall at 1-888-299-7646. 
Sign up here for our daily Thrillist email, and get your fix of the best in food/drink/fun.