You Can Get This Pretzel-Filled Stadium From Auntie Anne's for the Super Bowl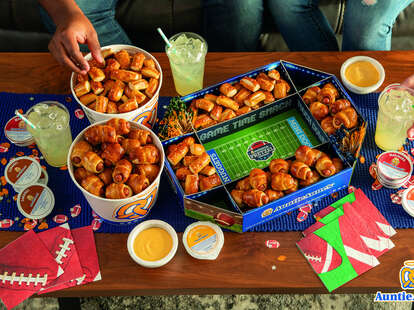 Courtesy of Auntie Anne's
Sure, the Super Bowl could mainly be about watching two NFL teams duke it out for the opportunity to hold a shiny trophy over their heads and claim the title of champions. Others would argue the Super Bowl is about the in between spaces of football -- watching snippets of multimillion dollar commercials and Lady Gaga diving into her halftime show. The reality is that both of those are wrong: the Super Bowl is about the food. Wings, pizza, tots, nachos, tacos, and pretzels.
If you're throwing a Super Bowl party this year and want to impress your guests with a sporty snack display, but don't want to put a whole lot of effort in preparing a cheese plate, hit up Auntie Anne's. The pretzel purveyor is offering a makeshift miniature football stadium filled with Pretzel Nuggets or Mini Pretzel Dogs, aptly entitled the Game Day Pretzel Pack.
The Game Day Pretzel Pack comes with two pretzel buckets of your choice, so you can opt for original salt and cinnamon sugar if you're feeling a sweet-and-savory vibe, or venture down a meatier path with Pretzel Dogs. In addition to the mini pretzel bites of your choice, the pack also comes with 10 assorted dips so you can dunk your way to victory -- even though that terminology is for the wrong sport. Oops.
You can purchase your own mini stadium of pretzels from now until February 2 at participating stores nationwide. The best part? The stadium is free; just pay for the pack of two pretzel buckets and sauce to have the perfect centerpiece of any Super Bowl party.
Sign up here for our daily Thrillist email and subscribe here for our YouTube channel to get your fix of the best in food/drink/fun.
Kat Thompson is a staff writer at Thrillist. Follow her on Twitter @katthompsonn.