Auntie Anne's Is Offering Easy Bake-At-Home Pretzel Kits
You don't have to go to the mall or the airport for that seductive pretzel chain scent.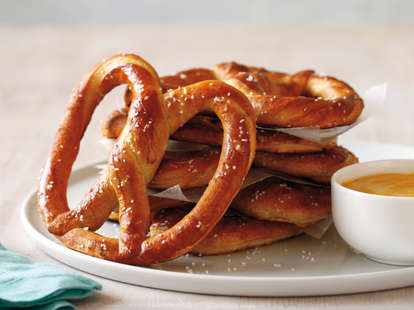 Courtesy of Auntie Anne's
Courtesy of Auntie Anne's
The aroma of Auntie Anne's wafting through the mall air is like direct marketing. Tell me you can go to Express without stopping by the iconic pretzel purveyor and I spy a liar. But now, you don't even have to leave your house for it -- in fact, you downright shouldn't. The food court staple is bringing back its bake-it-yourself kits with all the fixings, so you can whip up original or cinnamon sugar soft pretzels while in quarantine.
The DIY packs, which include both the necessary instructions and ingredients for 10 pretzels, are already available for online order. Once you receive the kit, your job is easy: mix, twist, and bake for the full Auntie Anne's experience.
"We heard from our guests loud and clear that they are missing our hand-rolled, golden brown pretzel snacks, and quite frankly, we're missing our guests, too!" President Heather Neary said in a statement. "The DIY At-Home Pretzel Kit is not only a great way to satisfy those pretzel cravings, but also creates a fun activity for families to enjoy together while remaining at home."
The product originally launched in celebration of National Pretzel Day, but because we're all stuck inside, Auntie Anne's decided to extend the deal to help keep us sane. And if you want to get creative with your kit, Neary recommends just going for it. "Order two -- make pretzels with one kit and then get creative with the other. Wrap up hot dogs, chocolate, and more!" she added.
Each 10-pack will run you $20, with orders slated to ship within two to three business days and deliver within five.
Sign up here for our daily Thrillist email and subscribe here for our YouTube channel to get your fix of the best in food/drink/fun.
Megan Schaltegger is a staff writer at Thrillist.