Here's How to Get a $37,000 Trip to the Arctic for Free
This contest is offering up the trip of a lifetime.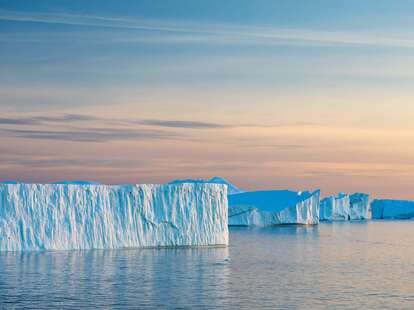 Courtesy of Aurora Expeditions, Photo by Michael Baynes.
Courtesy of Aurora Expeditions, Photo by Michael Baynes.
Going to the Arctic Circle is definitely a bucket list item for so many of us. For me, I first wanted to explore the icy region of the world while watching X-Files in 2002, as a seven-year old-child sweltering in an un-air-conditioned Florida living room. Scully, alien bacteria, and temperatures below 95 degrees? Sign me up. As an adult, I've almost let go of my Scully fantasies (Gillian, if you ever want to go on a picnic, call me), and I now deeply fear encountering any and all types of remarkable bacteria. I still really want to go to the Arctic Circle though—and even with 2023 rent prices, Aurora Expeditions has made it possible for one lucky person to have that experience.
Now until July 19, you can enter to win a trip for two that is valued at $37,390 to one of three Arctic destinations. The winner will be able to choose between the Iceland Circumnavigation, Jewels of the Arctic, or Svalbard Odyssey, all which depart in 2024. Entering to win is pretty simple; you just need to head to the contest landing page and share your dream voyage with Arctic Expeditions and why you want it in 25 words or less. My entry, for example would be:
"First inspired by Det. Scully, exploring the icy wilderness of the Arctic has been a lifelong dream. I'd love to do it with Aurora!"
That's exactly 24 words. And what's better is that the only requirement to enter is that you are at least 18 years of age. The contest is open to global consumers. The prize will include airfare and accommodations in a Balcony C stateroom for the entirety of the trip, which will be between 11 and 15 days.
You can explore the different sailings and everything Aurora has to offer over at aurora-expeditions.com.