This New Hot Air Balloon Ride Shows You the Northern Lights From the Sky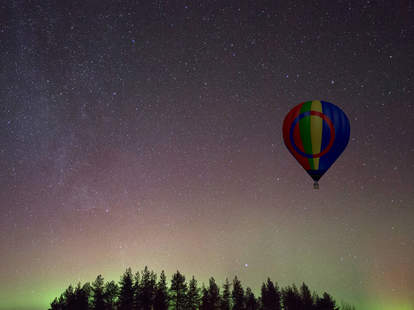 Courtesy of Off the Map Travel
To see the northern lights, you could get lucky and step outside on one of those rare evenings when the conditions are perfect somewhere like northern Minnesota or Maine. Or you could chase them down. If you go that route, there are an increasing number of unique aurora experiences that make for a once-in-a-lifetime vacation. That includes treks like staying in a floating hotel or sleeping inside a bubble under the stars. 
Off the Map Travel is looking to take the latter types of experiences up a notch. Way up. The travel company is launching a hot air balloon aurora tour called "Aurora in the Sky" that will take you to Swedish Lapland to see, well, the aurora from the sky. The new tour will launch in December 2020, and it only lasts through April 2021.
"This is a first," Off the Map Travel founder Jonathan Cooper said. "We've never heard of anything like this before and everything is pointing to this being the region's next big Aurora experience."
The tour will take you into the wilderness around Gunnarsbyn, Sweden, about an hour north of Luleå. The balloon will rise around 40 meters into the air while anchored into the arctic ice below so you don't wind up floating off like balloon boy.
The tour was created by the founders of the Aurora Safai Camp, Jonas Gejke and Fredrik Broman, who are working with ballooning expert Andrew Pert. You might not be able to give it a go until December, but booking will open in May 2020, and the unique experience seems likely to fill up quickly despite the $2,999 price tag.
That's certainly steep, but you're getting more than just the hot air balloon ride. You'll also be provided with meals, private transfers, accommodations provided at the Outpost and Aurora Safari Camp, a snowmobile adventure with lunch on the Arctic Circle, and a snowmobile adventure that vaguely states you'll "meet the locals."
With the variability of the aurora and Arctic weather, Off the Map recommends the experience be purchased while you're in the region for multiple days to provide a little flexibility in the timing of your journey into the sky. It's a long journey and it'd be awful to have the whole thing ruined by bad weather.
Sign up here for our daily Thrillist email and subscribe here for our YouTube channel to get your fix of the best in food/drink/fun.