This Guy Ditched His $600 Dinner Tab by Swimming Out to Sea
Dining and dashing is never the right move. It's a crime committed by garbage people, and you should never even consider it. That said, if you are going to attempt it, you might as well go as big and bold as possible, like an Australian man did this past weekend at a renowned seafood restaurant, ditching his huge bill by literally running onto the beach and swimming away.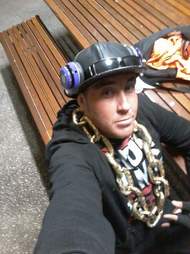 Facebook
According to a Buzzfeed report, the man -- identified as aspiring rapper Terry Peck, who goes by the name 2Pec -- allegedly feasted on a couple lobsters, baby octopus, 21 vodka oyster shooters, and "a number of Coronas" at Omeros Bros Restaurant on Queensland's Gold Coast, racking up a $621 tab before initiating his unconventional escape. Although waitstaff chased after him, he managed to make it all the way down the nearby Surfer's Paradise Main Beach and into the ocean without getting caught. Unfortunately for him though, the getaway was ultimately foiled when cops hitched a ride out on a couple lifeguards' Jet Skis and scooped him from the water. 
During his arraignment this morning, the man alleges he only left the restaurant "to help a friend who he said was giving birth on the beach," according to Australia's ABC News, which...OK. Then, outside court, he also took a swipe at the restaurant, claiming his lobster was "overcooked," and said that they should be the ones apologizing to him for serving the overpriced food. 
Although the case won't be heard until May, the man -- who is currently on parole after being released from prison in February -- was ordered to never return to the restaurant.
Sign up here for our daily Thrillist email, and get your fix of the best in food/drink/fun.
Joe McGauley is a senior writer for Thrillist and quite curious how many Coronas "a number of" actually is.