Disney Just Unveiled Details About Its Avengers Land Theme Park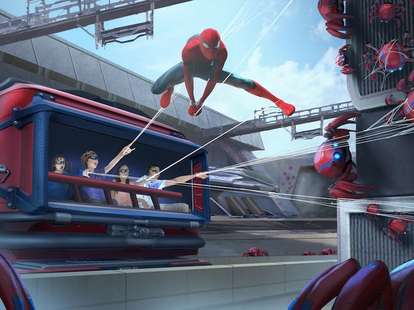 Disney has finally unveiled details about its plans for a Marvel-theme land in California, a follow-up to this year's Star Wars: Galaxy's Edge. It was no secret that the attraction was coming, but details have largely been kept under wraps until this weekend's D23 Expo.
The Avengers Campus will be hitting both Disney's California Adventure and Disneyland Paris in 2020 with hopes of recruiting the next generation of superheroes, Walt Disney Imagineering's Scot Drake said. (In case it's not clear, those next heroes could be you, loyal park-goer.) The parks will be linked in a global story. It starts with a Hydra attack on the Stark Expo at Hong Kong Disneyland, which already has the Iron Man Experience and Ant-Man and the Wasp: Nano Battle. There's also a Thanos attack, which is where visitors come in to help the overwhelmed Avengers, per Polygon.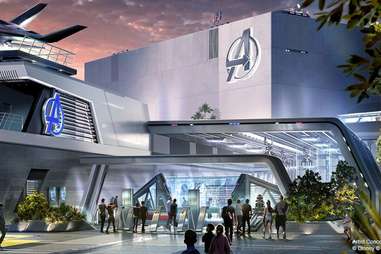 The California Campus will house the first Spider-Man-themed attraction at a Disney park. (There is already a Spider-Man ride at Universal's Islands of Adventure in Florida.) The ride is called W.E.B. (Worldwide Engineering Brigade) and will have riders help the web-slinger, uh, sling webs at Spider-Bots poised to attack guests. Perhaps that will provide a little solace for fans upset that Spider-Man is leaving the MCU.
For food, you'll be able to swing by the Pym Test Kitchen, with grub large and small according to how they've been impacted by Pym particles. This is all in addition to the already open Guardians of the Galaxy — Mission Breakout.
That's just the first phase of the park because it wouldn't be a Marvel experience if things weren't released in phases. The second phase, which doesn't have a publicly shared timeline, will include a Quinjet ride through Wakanda.
Additionally, a Guardians roller coaster, Guardians of the Galaxy: Cosmic Rewind, will be headed to Epcot in Orlando. Hopefully, it also includes some excellent 70s and 80s music on cassette.
Sign up here for our daily Thrillist email and subscribe here for our YouTube channel to get your fix of the best in food/drink/fun.