Heinz Is Paying an Average Joe $100,000 to Star in Frozen Food Commercials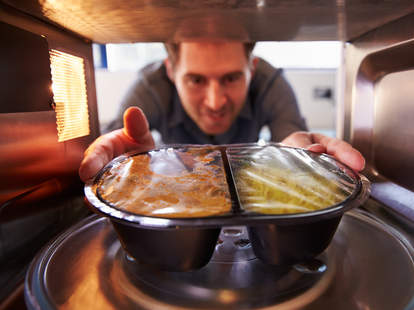 If you're a guy and think words like "average," "regular," and "uncomplicated" perfectly describe you, then there's a chance you're uniquely qualified to star in Super Bowl commercials promoting a new line of frozen foods. No, really: Heinz is hiring a decidedly regular, completely average guy for the job, which pays a whopping $100,000.
The food giant recently held casting calls in NYC, Houston, and Los Angeles to select candidates between the ages of 25 and 42 who can be the face of its new brand, Devour, which makes frozen meals aimed at young consumers like buffalo chicken mac and cheese and chicken and waffles. The commercials will air during the Super Bowl, but not on the same channel as the game, according to a report by Adweek. 
As of Wednesday afternoon, Devour's official website for the job/contest states casting is closed and that it's currently selecting a winner. The lucky guy will receive a two-year contract for $100,000, according to a report by CNBC, which, if you think about it, will make him markedly less average. Go figure.
Sign up here for our daily Thrillist email, and get your fix of the best in food/drink/fun.
Tony Merevick is Cities News Editor at Thrillist and hasn't had a traditional frozen meal in a long time. Send news tips to news@thrillist.com and follow him on Twitter @tonymerevick.